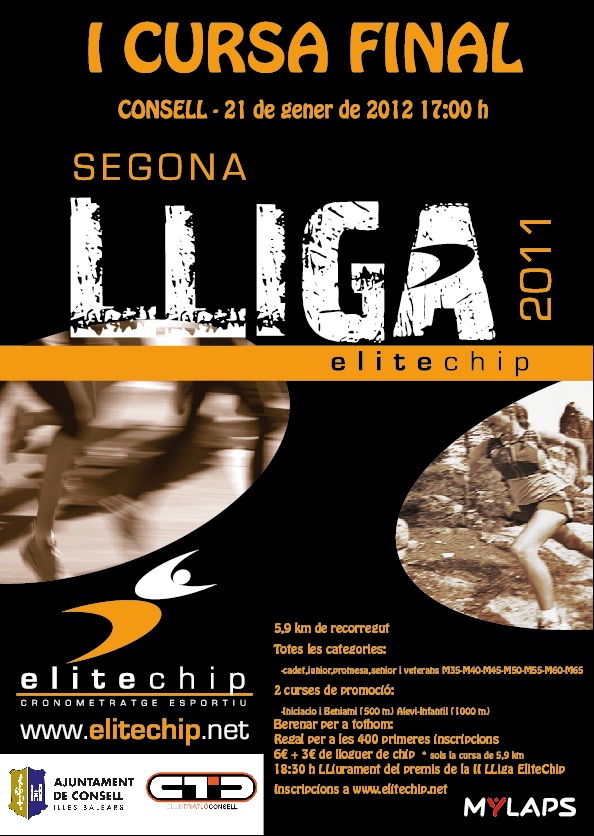 5,9 km de recorregut
Horaris:
17:00 h Sortida iniciacio i Benjami (2 voltes circuit petit) color Vermell
17:10 h Sortida Alevi i Infantil i cadet femeni (2 voltes circuit mitjà) color verd
17:20 h Sortida resta de categories (1 volta circuit gran 5,9 km)
Categories Masculina i Femenina:
cadet Any de naixament 1997-1998
Juvenil-junior Any de naixament 1993-1996
promesa Any de Naixament 1990-1992
senior De 23 a 34 Anys
veterans M35 De 35 a 39 Anys
veterans M40 De 40 a 44 Anys
veterans M45 De 45 a 49 Anys
veterans M50 De 50 a 54 Anys
veterans M55 De 55 a 59 Anys
veterans M60 De 60 a 64 Anys
veterans M65 + de 65 Anys
2 curses de promoció:
- Iniciacio i Benjami (500 m) Anys de naixament 2003-2004-2005-2006
- Alevi-Infantil (1000 m) Anys de naixament 1999-2000-2001-2002
Berenar per a tothom:
En acabar la cursa hi haura picada per a tothom com a final de festa.
Regal per a les 400 primeres inscripcions a la cursa absoluta, 1 botil d'oli artesa.
Categories menors regal de participació
Inscripcions: 6€ + 3€ de lloguer de chip * sols la cursa de 5,5 km
Les categories menors sense cost,
Premis: Al primer de cada categoria se li fara un obsequi, A les categories menors tots els nins tindran regal de participació
18:30 h LLiurament del premis de la II LLiga EliteChip.
Camiseta tècnica a tots els que hagin completat un minin de 7 curses del calendari de la Lliga 2011
Relació de premiats (M y F):
5 primers absoluts de la general
3 primers de cada categoria
3 darrers de la clasificación que completin 6 pruebas simples, 4 de dobles i 2 triples
1 premi a la constància, al corredor/a que hagi participat més competicions, en cas d'empat se sortejara el premi.
Sorteig sorpresa de divers material. (Requisit mínim haver participat en 7 curses durant el 2011)
- Elecció dels atletas del l'any, per elecció popular mitjançant la inscripció a la cursa.
- Premi al corredor/a mes simpatic
- Premi al corredor/a mes sufridor o combatiu
- Premi al corredo/a amb més mala sort o més "gafe"
- Premi al corredor/a revelació de l'Any
- Premi al corredor/a més tímid
- Premi a la millor cursa de la lliga 2011
El formulari de inscripció esta obert a tothom, es podrà triar participar a la cursa o solamente votar al formulari
Inscripcions a www.elitechip.net
Warning Elitechip Queries!
Elitechip is not constantly checking Facebook conversations. If you have any questions or queries regarding the competition or other issue, please use the
Contact Form
so we can reply you in the shortest possible time.