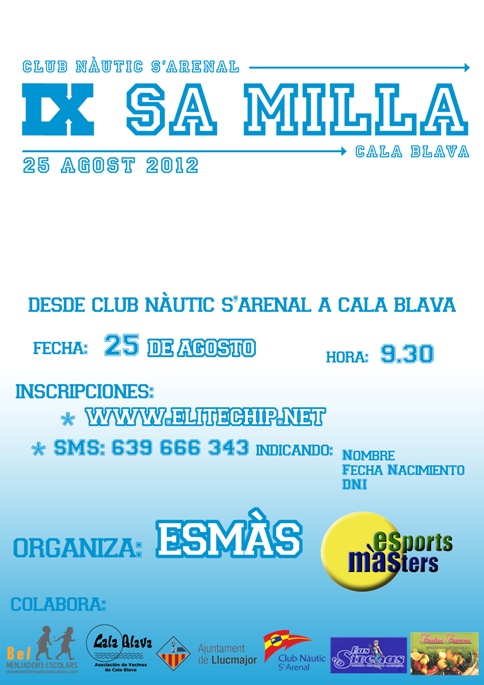 Horario de Salida
09:30 h categorías A F G H, categorias femenina y Especial para olímpicos
09:40 h salida al resto de categorías
Distancia: Una milla náutica 1852 metros
Si desea realizar la inscripción via SMS puede enviar sus datos personales (DNI, Nombre i Apellido, Fecha de Nacimiento, e-mail i Telefono) al numero de la organización 639 666 343.
Con el fin de evitar que se retrase la salida por motivos de inscripciones de última hora, las inscripciones que se efectuen en la playa tendran un coste de 3€, y ademas la organizacion se reserva el derecho de cerrar la inscripcion en cualquier momento que le parezca oportuno, con el fin de asegurar puntualidad..
PREMIACIONES:
Trofeo al vencedor y vencedora absoluta, Ofrecidos por LA SIRENAS Restaurante Marisquería
Medallas Oro, Plata y Bronce a los primeros, segundos y terceros de cada categoría, gentileza del Club Náutico Arenal
Trofeo al nadador o nadadora de menos edad participante y complete SA MILLA
Trofeo al nadador o nadadora de mas edad de los participantes y que complete SA MILLA
Informaciones adicionales 639 666 343 Tolo Bonet i en el email: tolobonet@telefonica.net
CATEGORIAS PARTICIPACION IX TRAVESIA CALA BLAVA
CATEGORIAS

CATEGORIAS

NACIDOS

MAS/FEM

DEL

AL

A

1998

2007

DE 5 A 14 AÑOS

B

1988

1997

DE 15 A 24 AÑOS

C

1978

1987

DE 25 A 34 AÑOS

D

1968

1977

DE 35 A 44 AÑOS

E

1958

1967

DE 45 A 54 AÑOS

F

1948

1957

DE 55 A 64 AÑOS

G

1938

1947

DE 65 A 74 AÑOS

H

1928

1937

DE 75 A 85 AÑOS

ESPECIAL

PARA OLIMPICOS

MAYORES 85 AÑOS
Warning Elitechip Queries!
Elitechip is not constantly checking Facebook conversations. If you have any questions or queries regarding the competition or other issue, please use the
Contact Form
so we can reply you in the shortest possible time.