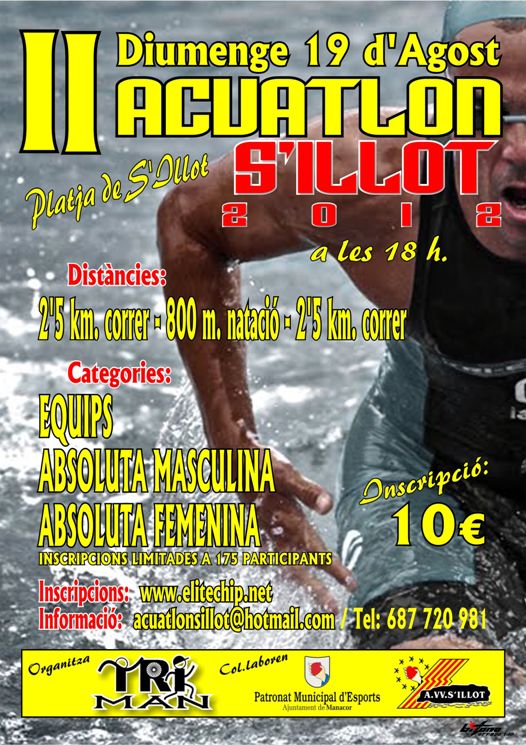 El CLUB TRIATLO MANACOR "TRIMAN" organiza el "II AQUATLO S´ILLOT 2012".
La prueba consiste en:
Carrera a pie de 2.5 km.
Natación de 800 Mts.
Carrera a pie de 2.5 Km.
Hay servicio de GUARDARROPA en la carpa de inscripciones.
-En la zona de Boxes cada atleta deberá depositar en su cajón correspondiente con su número de dorsal las gafas de natación antes de empezar la prueba.
-Una vez terminado el 1er sector de carrera a pie y entrar en Boxes, dejara las zapatillas de correr y el dorsal dentro del correspondiente cajón para comenzar el segmento de natación.
-Misma operación al salir del agua: gafas dentro del cajón antes de comenzar 2º segmento de correr.
-Se penalizara con 3 minutos al atleta que deje algún objeto fuera de su cajón correspondiente.
-Esta totalmente PROHIBIDO portar el dorsal en el sector de natación.
RELEVOS
-Los relevistas esperarán a sus compañeros en Boxes en una zona habilitada para ellos.
-El nadador podrá esperar a su compañero con las gafas de buceo en la mano.
-El atleta podrá esperar a su compañero con las zapatillas de correr puestas.
Warning Elitechip Queries!
Elitechip is not constantly checking Facebook conversations. If you have any questions or queries regarding the competition or other issue, please use the
Contact Form
so we can reply you in the shortest possible time.