III Duatló Festes de Sant Joan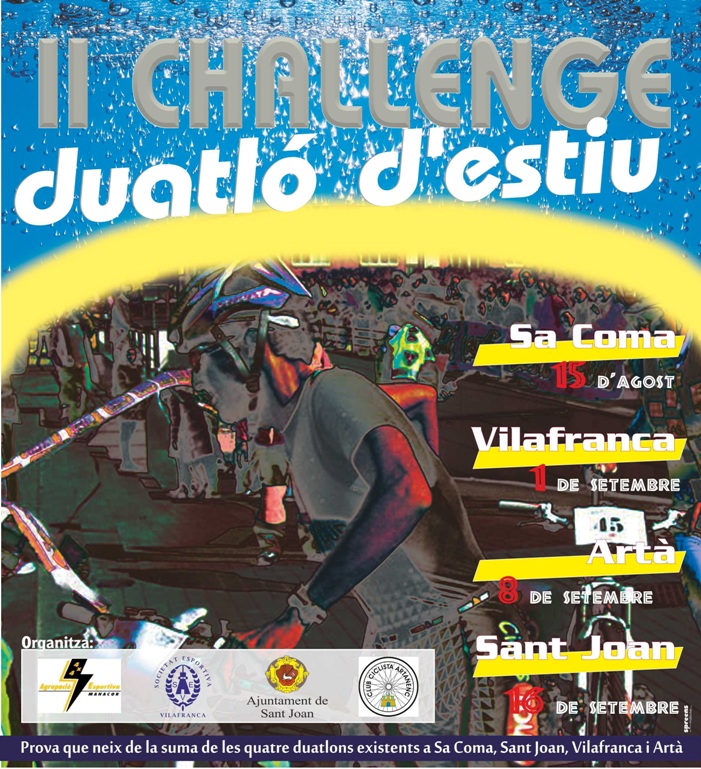 El Duatlón esta incluido en la II CHALLENGE DUATLON D´ESTIU 2012.
La prueba se podrá realizar de forma individual o por parejas.
La prueba consiste en:
- 4 km. carrera pedestre.

- 13,6 km. bicicleta "mountainbike". (obligatorio el uso del casco)

- 2 km. carrera pedestre.
Se establecen las siguientes CATEGORIAS:
- ABSOLUTA MASCULINA / FEMENINA.

-SUB 23.

-JUNIORS.

-ELITE

-MASTER 30

-MASTER 40

-MARTER 50

- COMBINADO MASCULINO / FEMENINO.
INSCRIPCIONES:
13 € por atleta ( + 2 alquiler chip)
Hasta el día 15 de setembre, 20:00 horas
Warning Elitechip Queries!
Elitechip is not constantly checking Facebook conversations. If you have any questions or queries regarding the competition or other issue, please use the
Contact Form
so we can reply you in the shortest possible time.