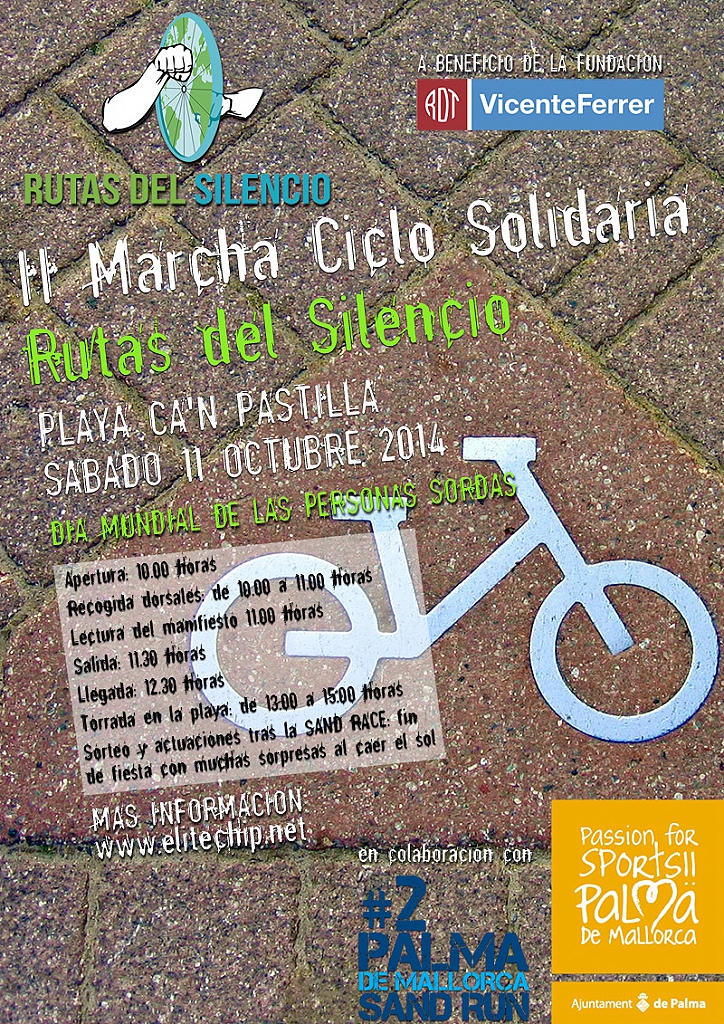 - II Maratón ciclo-solidaria Rutas del Silencio y la Fundación Vicente Ferrer estamos organizando la II Maratón ciclo-solidaria en Palma. Esta maratón en bicicleta se llevará a cabo el sábado por la mañana del 11 de octubre en el marco de la Sand Run en Can Pastilla.
¿Cuándo se llevará a cabo? El 11 de octubre de 2014
Apertura: 10.00h
Recogida de dorsales: 10.00h a 11.00h
Lectura de manifiesto: 11.00h
Salida: 11.30h
Llegada: 12.30h
Torrada en la playa: 13.00h a 15.00h
Sorteo y actuaciones: al atardecer, finalizada la Sand Run.
¿Dónde se llevará a cabo? Playa de Can Pastilla de Palma
¿A quién va dirigido? A todos los públicos
¿Cuál es la distancia de la ciclo maratón? 10 km.
¿Dónde puedo inscribirme?
- A través de la web del evento
- www.elitechip.net
- En la Fund. Vicente Ferrer
– C/ Anníbal, 9 (Palma)
- El mismo día en el lugar del evento
¿Qué precio tiene la inscripción? 5€ que irán destinados al proyecto de personas con discapacidad de la Fundación Vicente Ferrer.
La inscripción incluye: dorsal, camiseta, carné para la torrada y más sorpresas.
¿Necesitas más información?
Fund. Vicente Ferrer Isabel Pizá
Bel Bonnín 971 22 01 09
baleares@fundacionvicenteferrer.org
Warning Elitechip Queries!
Elitechip is not constantly checking Facebook conversations. If you have any questions or queries regarding the competition or other issue, please use the
Contact Form
so we can reply you in the shortest possible time.