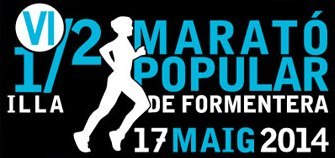 Salida: Far de la Mola a las 17:30 horas
Meta: Paseo de la Marina (La Savina).
Hora límite de llegada: A las 20:00 horas.
Límite inscripción: 1.400 participantes.
Precio de la inscripción:
25 € hasta el día 22 de abril de 2014.

35 € del 23 de abril al 12 de mayo 2014. (El día 12 de mayo a las 24 horas se cierra la inscripción online)

50 € Viernes 16 de mayo 2014. (No se podrán hacer nuevas inscripciones el sábado 17 de mayo 2014).
Nota: Los inscritos antes del 22 de Abril llevaran su nombre escrito en el dorsal.
Categorías:
Se considerará constituida una categoría cuando haya 3 o más atletas inscritos, en caso contrario la organización podrá anular la categoría y clasificar a los atletas en otras categorías.
Absoluta masculina.
Absoluta femenina.
Absoluta masculina local (trofeo acumulativo con otras categorías).
Absoluta femenina local (trofeo acumulativo con otras categorías).
Junior y Promesa masculino y Junior y Promesa femenino (01/01/1992 – 17/05/1996).
Senior masculina y femenina (18/05/1979 – 31/12/1991).
M35 masculina y femenina (18/05/1974 – 17/05/1979).
M40 masculina y femenina (18/05/1969 – 17/05/1974).
M45 masculina y femenina (18/05/1964 – 17/05/1969).
M50 masculina (18/05/1959 – 17/05/1964).
M50 femenina (nacidas antes del 18/05/1964).
M55 masculina (18/05/1954 – 17/05/1959).
M60 masculina (nacidos antes del 17/05/1954).
Edad mínima: 18 años cumplidos el día de la competición.
El viaje: vuelo, hotel, ferry y traslados

Logitravel.com es la agencia oficial de la ½ Marato Formentera 2014. Si estáis buscando cómo llegar y hospedaros en Formentera durante el evento, Logitravel pone a disposición de los participantes y sus acompañantes tarifas especiales de vuelo, hotel, ferry y traslados. Podéis reservar un paquete con todos los servicios incluidos y alojaros en Es Pujols desde 18€ persona/noche en régimen alojamiento y desayuno. El Fast Ferry Ibiza-Formentera-Ibiza se realiza con la naviera Trasmapi con un 50% de descuento y sin colas de espera.

Si estáis interesados en estas tarifas, encontraréis más información en la página web de Logitravel www.logitravel.com o contactando directamente a través del email maratoformentera@logitravel.com Por favor indicar el número de pasajeros, el origen, los servicios que queréis contratar y las fechas.

Con Logitravel.com, olvídate de la organización del viaje.
Mas Información: http://www.marato-formentera.com/
Link Directo a:
Warning Elitechip Queries!
Elitechip is not constantly checking Facebook conversations. If you have any questions or queries regarding the competition or other issue, please use the
Contact Form
so we can reply you in the shortest possible time.