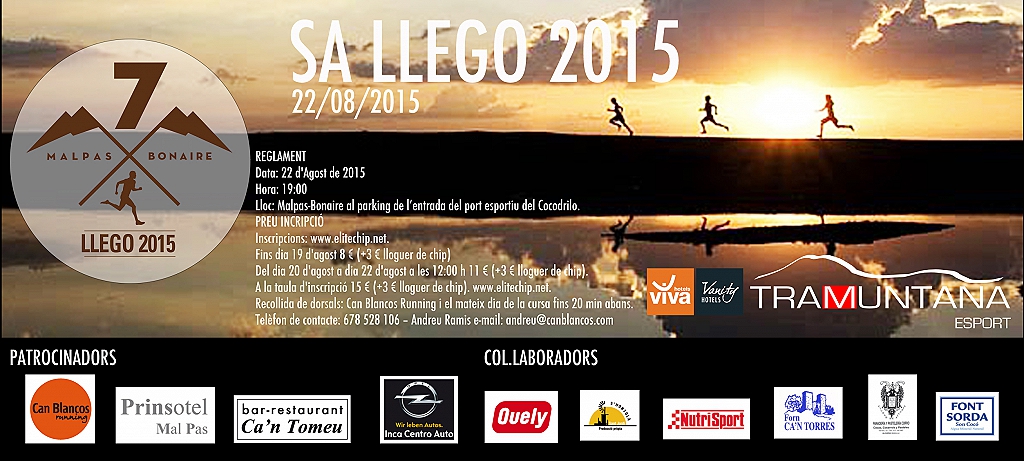 VII Llego Malpas-Bonaire 2015
Reglament
Data: 22 d'Agost de 2015
Hora: 19:00
Lloc: Malpas-Bonaire al parking de l'entrada del port esportiu del Cocodrilo.
Obsequi: Camiseta commemorativa
Inscripcions: www.elitechip.net.
Preu inscripció:
Fins dia 19 d'agost 8 € (+3 € lloguer de chip)
Del dia 20 d'agost a dia 23 d'agost a les 12:00 h 11 € (+3 € lloguer de chip).
A la taula d'inscripció 15 € (+3 € lloguer de chip). www.elitechip.net.
Recollida de dorsals: Can Blancos Running i el mateix dia de la cursa fins 20 min abans.
Tots els participants inscrits correctament a la prova estaran coberts amb una assegurança de responsabilitat civil i d'accidents. L'organització disposa del corresponent segur de responsabilitat civil.
L'organització recomana fer-sa una revisió mèdica i/o prova d'esforç a totes aquelles persones que no hagin corregut una prova de similars característiques anteriorment o duguin un període prolongat de temps sense realitzar activitat física.
Hi haurà 9 categories:
Masculina:
Junior (16-19)
Senior (20-45)
Veterans (46-59)
Master 60 (60-<)
Locals.
Femenina:
Senior (16-45)
Veteranes (46-59)
Master 60 (60-<)
Locals.
Hi haurà trofeus per els tres primers classificats de cada categoria.
Serà desqualificat qualsevol atleta que, sabent de la seva impossibilitat de participar, proporcioni dades errònies a l'organització, per poder fer-ho.
L'organització no es fa responsable de qualsevol accident que es pugui ocasionar durant la cursa per imprudències dels participants.
Telèfon de contacte: 678 528 106 – Andreu Ramis
e-mail: andreu@canblancos.com
Punts d'informació: Can Blancos (plaça Orient, 1 Inca)
Warning Elitechip Queries!
Elitechip is not constantly checking Facebook conversations. If you have any questions or queries regarding the competition or other issue, please use the
Contact Form
so we can reply you in the shortest possible time.