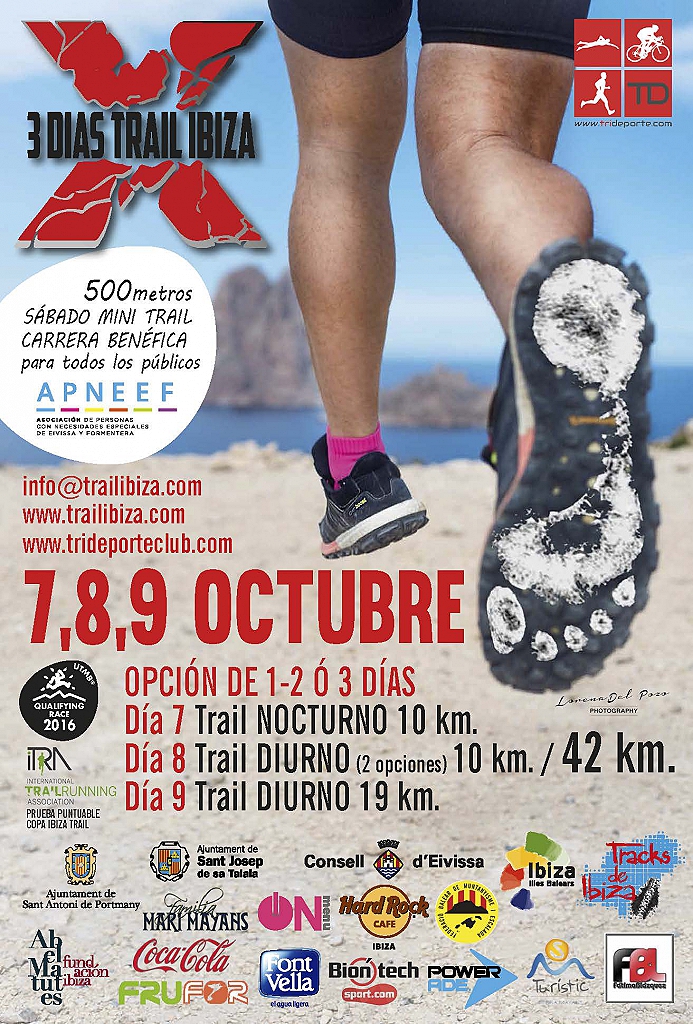 3 DÍAS DE TRAIL (2016)
Inscripciones
1er día. Nocturna precio 8€ + 5€ (seguro).
2o día:

Cala Comte precio 8€ + 5€ (seguro)
Maratón precio 30€+ 5€ (seguro)

3er. Día. Domingo precio 16€ + 5€ (seguro)
Participación en los 3 días :
45 € + 5€ seguro (si se hace la maratón)
30 € + 5€ seguro (si se hace los 3 días pero participando el sábado en la corta).
Los participantes que tengan la Licencia Federativa de Montaña, NO PAGAN SEGURO.
Carrera Benéfica (evento independiente) Para recaudar para APNEEF.
Sábado en Cala Conta. Después de la salida de los corredores.
Todo tipo de participantes.
Recorrido: 500 mts.
Precio: 5 € (mitad es Seguro y mitad APNEEF).
Warning Elitechip Queries!
Elitechip is not constantly checking Facebook conversations. If you have any questions or queries regarding the competition or other issue, please use the
Contact Form
so we can reply you in the shortest possible time.