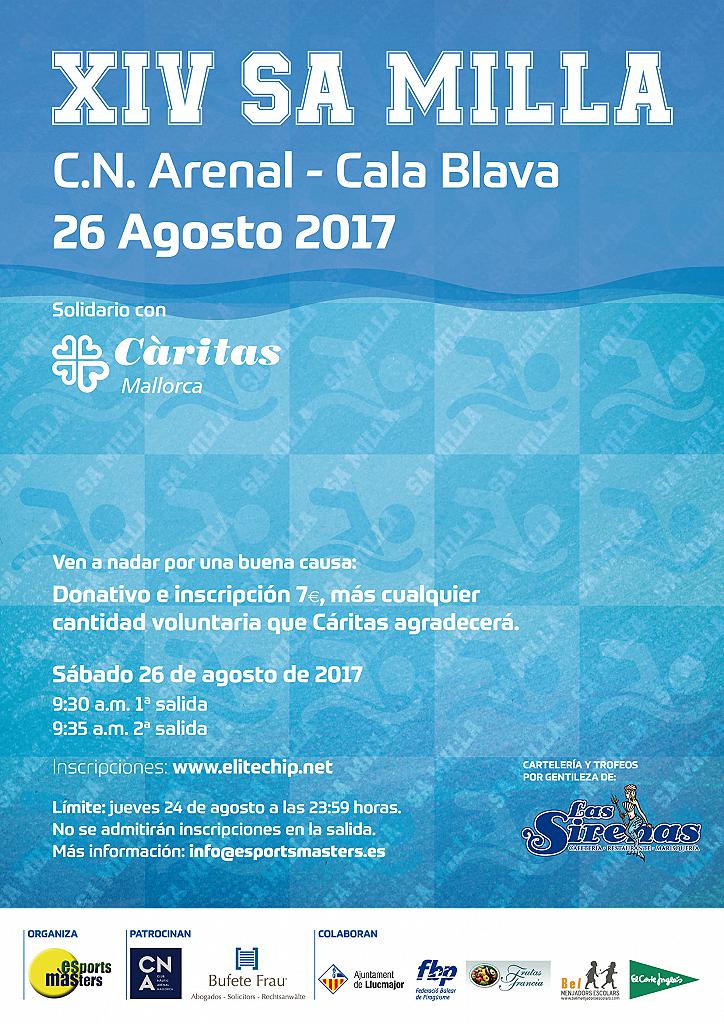 XIV Sa Milla - Travesía C.N. Arenal - Cala Blava 2017
Hora: 09:30
Importe inscripción: 7 Eur (5 Eur donativo Cáritas + 2 Eur seguro de accidentes y responsabilidad civil)
Es obligatorio la cumplimentación de la autorización para los menores de edad. La pueden descargar de la documentación adjunta y entregarla debidamente cumplimentada el día de la competición.
El nadador que se inscriba a esta prueba de natación lo hace aceptando el reglamento de la misma (ver DOCUMENTACIÓN más abajo).
LAS INSCRIPCIONES SE CIERRAN EL JUEVES 24 DE AGOSTO A LAS 23:59 H. NO SE PERMITIRÁN INSCRIPCIONES FUERA DE PLAZO NI EL MISMO DÍA DE LA PRUEBA.
Horario de Salida:
09:30 h Salida categorías B C D E masculinas.
09:35 h salida resto de categorías masculinas y todas las categorías femeninas
Distancia: Una milla náutica 1852 metros
+info: info@esportsmasters.es
Servicios de los que dispondremos:
Seguro de responsabilidad civil
Seguro de accidentes
Servicio de guardarropa
Regalo de camiseta
Regalo de gorro natación
Embarcaciones de apoyo
Avituallamiento a la llegada
Ambulancia
Las categorías premiadas serán:
CATEGORÍAS

NACIDOS

MAS / FEM

DEL

AL

A

2003

2009

DE 8 A 14 AÑOS

B

1993

2002

DE 15 A 24 AÑOS

C

1983

1992

DE 25 A 34 AÑOS

D

1973

1982

DE 35 A 44 AÑOS

E

1963

1972

DE 45 A 54 AÑOS

F

1953

1962

DE 55 A 64 AÑOS

G

1943

1952

DE 65 A 74 AÑOS

H

1933

1942

DE 75 A 84 AÑOS

+85 AÑOS

A PARTIR 85 AÑOS INCLUSIVE
Warning Elitechip Queries!
Elitechip is not constantly checking Facebook conversations. If you have any questions or queries regarding the competition or other issue, please use the
Contact Form
so we can reply you in the shortest possible time.