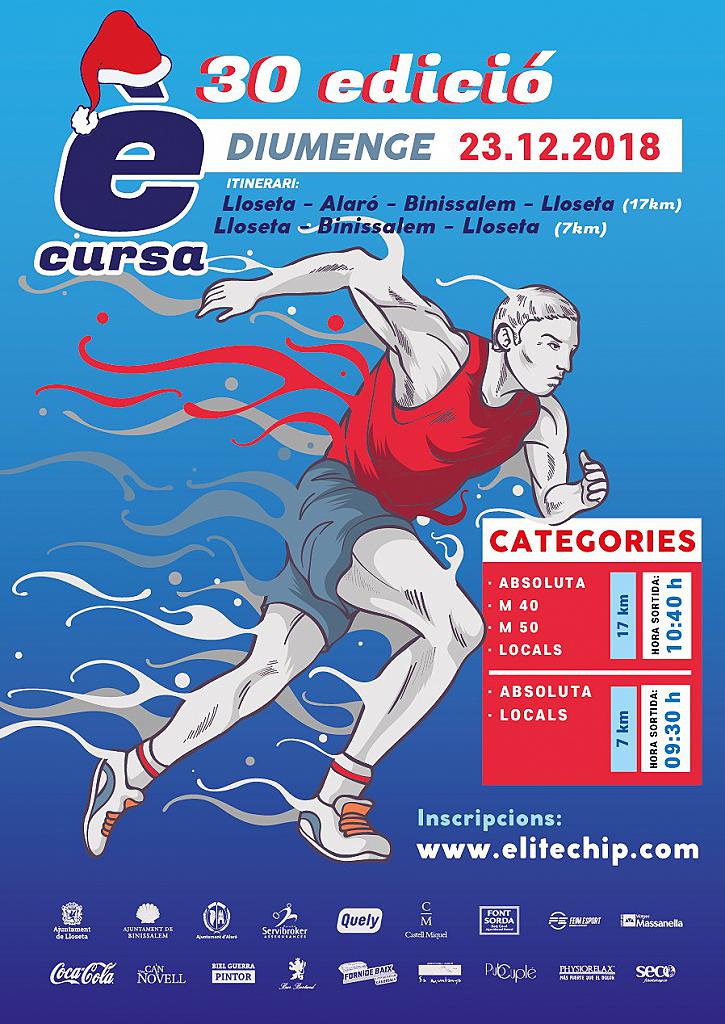 XXX Cursa de s'E 2018

DATA: DIUMENGE 23 DESEMBRE 2018

SORTIDA/ARRIBADA: Lloseta

Recorregut

17 km Lloseta-Alaró-Binissalem-lloseta

7 km Lloseta-Binissalem-LLoseta

DISTÀNCIES /HORARIS:

17 Km 10:40 h.

7 Km 09:30H.

CATEGORIES
Cursa 17 km:

Cursa 7 km

ABSOLUTA


LOCALS

Preus inscripcions amb chip groc i federats., fins dia 22/12/2018

No federats + 1 euro ( assegurança)

Dia 23 els preus pujen a 15 i 10 euros

(1 euro de les inscripcions es destina al voluntaris de protecció civil)

SERVEIS al corredor edició 2018:
CARPA D'ATENCIÓ MÈDICA ACCIDENTS I FISIOTERAPEUTES

SERVEI AMBULÀNCIES + SEGWAY SEGUINT CURSES.

PRESENCIA DE GUARDIA CIVIL,POLICIA LOCAL I PROTECCIÓ CIVIL

AVITUALLAMENTS líquids EN CURSA KM 7,1

i

13,5 POST CURSA LÍQUID I SÒLID

SERVEI DE DUTXES AL POLIESPORTIU MUNICIPAL de lloseta

(vestidors de la piscina municipal)

CRONOMETRATGE VIA CHIP I VIA JUTGES FAIB punt intermitjos de cronometratge km 8 i km 14

Recollida de dorsals a LA SORTIDA a partir 8:00h dia 23/12.

SAMARRETA TÈCNICA DE RECORD PER LES 1000 PRIMERES INSCRIPCIONS.
Warning Elitechip Queries!
Elitechip is not constantly checking Facebook conversations. If you have any questions or queries regarding the competition or other issue, please use the
Contact Form
so we can reply you in the shortest possible time.