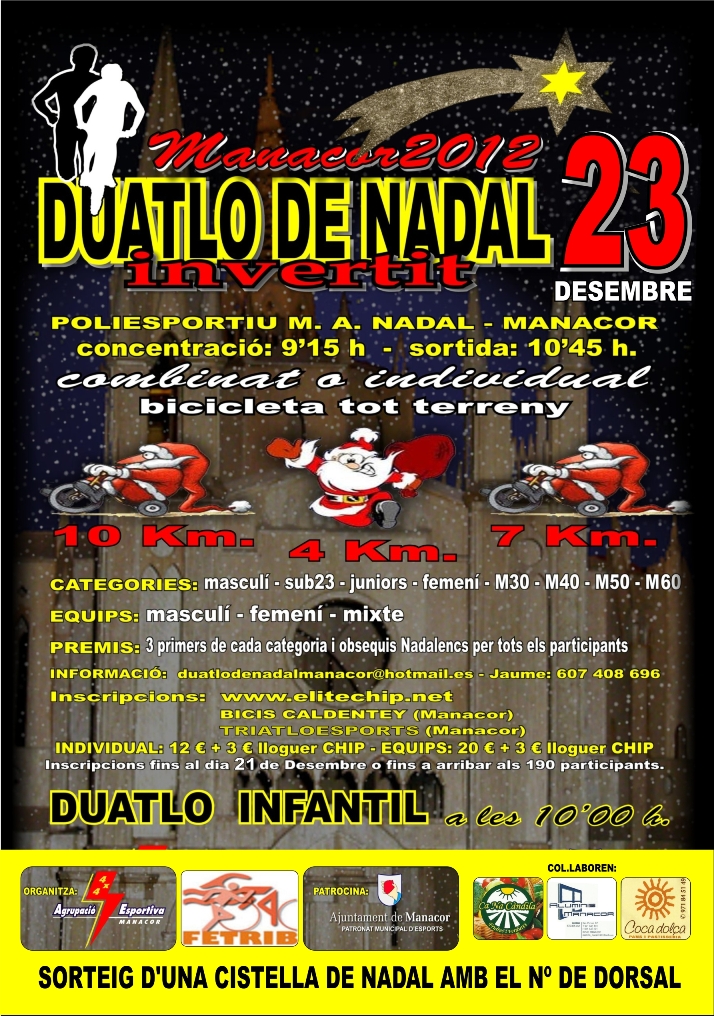 Fotos Duatlo Invertit de Nadal - Manacor
Fotos : Nuria Sureda
La AGRUPACIÓ ESPORTIVA MANACOR organiza el DUATLÓ INVERTIT DE NADAL, en Manacor, con salida y llegada en el polideportivo MIQUEL ÁNGEL NADAL.
DISTANCIAS:
10 KM CICLIME MTB
4 KM CARRERA
7 KM CICLISME MTB
Se podrá realizar de forma individual o combinado.En la modalidad de combinado se realizará entre dos componentes. Uno realizará la competición de MTB, en sus dos distancias, y el otro componente la carrera de atletismo.En el sector de MTB será obligatorio el uso de casco protector.Una vez terminada la carrera los atletas dispondrán de las duchas del polideportivo, así como de sus instalaciones.
Las categorías serán las siguientes:
INDIVIDUAL:
-JUNIOR
-SUB23-JUNIORS
-ELITE
-M30
-M40
-M50
-M60
-FEMINAS
-COMBINADO:
-MASCULINO
-FEMENINO
-MIXTO
Habrá premio para los tres primeros clasificados de cada categoría, así como obsequios para todos los participantes.Una vez terminada la prueba se sorteará entre todos los poseedores de dorsal un sorteo de una cesta navideña.
INSCRIPCIONES:
En la web www.elitechip.net
Bicicletas Caldentey (Manacor)
Tenda TRIATLOESPORTS(Manacor)
PRECIOS:
Individual: 12 € + 3 alquiler xip
Combinado: 20 € + 3 alquiler xip
Limitada inscripción a 190 participantes
Más información en duatlodenadalmanacor@hotmail.es
Todos los participantes deberán portar el xip en el tobillo para su correcto cronometraje.Los atletas que lo hagan combinado llevarán un solo xip, y este será el relevo que deberán cambiarse en boxes para continuar la carrera.
Asimismo, a las 10:00 horas dará comienzo un duatlón para la categoría infantil, niños de todas las edades podrán probar la disciplina del duatlón en su formato original: correr, bici MTB, y correr. inscripciones en duatlodenadalmanacor@hotmail.es
Warning Elitechip Queries!
Elitechip is not constantly checking Facebook conversations. If you have any questions or queries regarding the competition or other issue, please use the
Contact Form
so we can reply you in the shortest possible time.