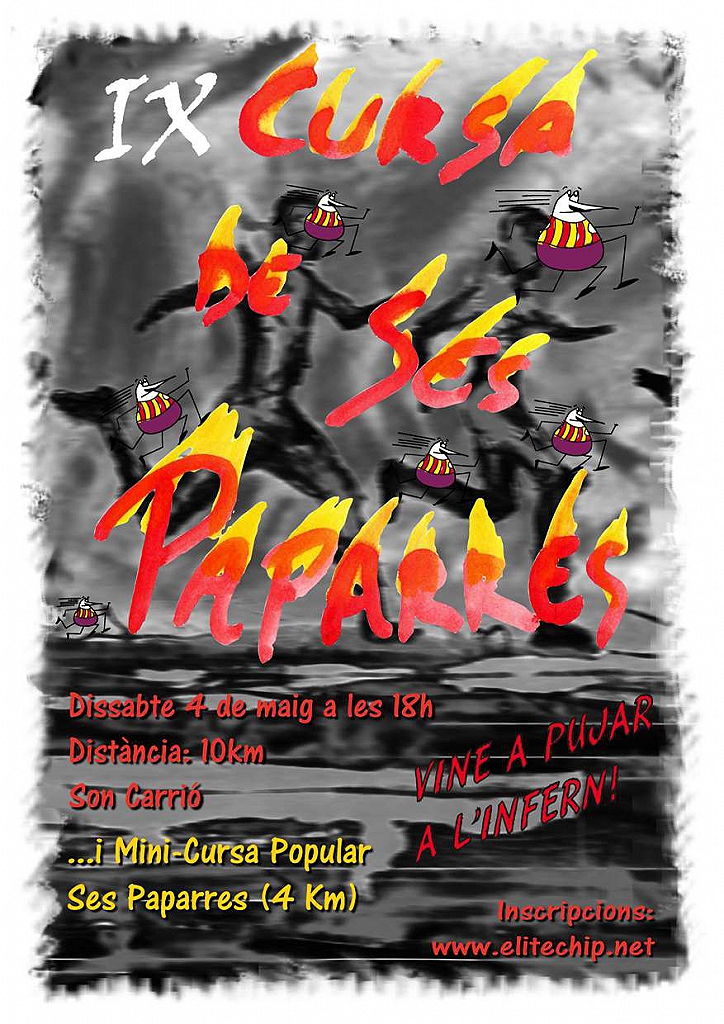 IX Cursa Popular DE SES PAPARRES
i
III Cursa Popular DE SES PAPARRES 4 KM
Dia 04-Maig-2013 a les 18:00 h
El recorregut transcorrerà en un circuit mixte d´asfalt i camí rural; la sortida i la meta estaran situades al poliesportiu de Son Carrió
L'edat mínima per participar a la cursa de 10 km és de 16 anys complerts el mateix dia de la prova. Per a la cursa de 4 km no hi ha límit d'edat, els menors de 12 anys han d´anar acompanyats per un adult major de 18 anys
L'horari de sortida serà a les 18.10 h en la carrera de 4 km. La sortida de la cursa de 10 km serà a les 18.00 h.
Només hi haurá 500 camisetes pels primers 500 inscrits, per ordre rigurós d'inscripció.
La cursa és gratuïta, no obstant, el participant podrà fer un donatiu utilitzant les eines que ens facilita elitechip, fins dia 29 d´abril. A partir de dia 30 d'abril el preu de la inscripció serà de 5 Euros
les inscripcions es realitzaran a través de la pàgina web www.elitechip.net
Recorregut dels 10 km
Recorregut dels 4 km
Warning Elitechip Queries!
Elitechip is not constantly checking Facebook conversations. If you have any questions or queries regarding the competition or other issue, please use the
Contact Form
so we can reply you in the shortest possible time.