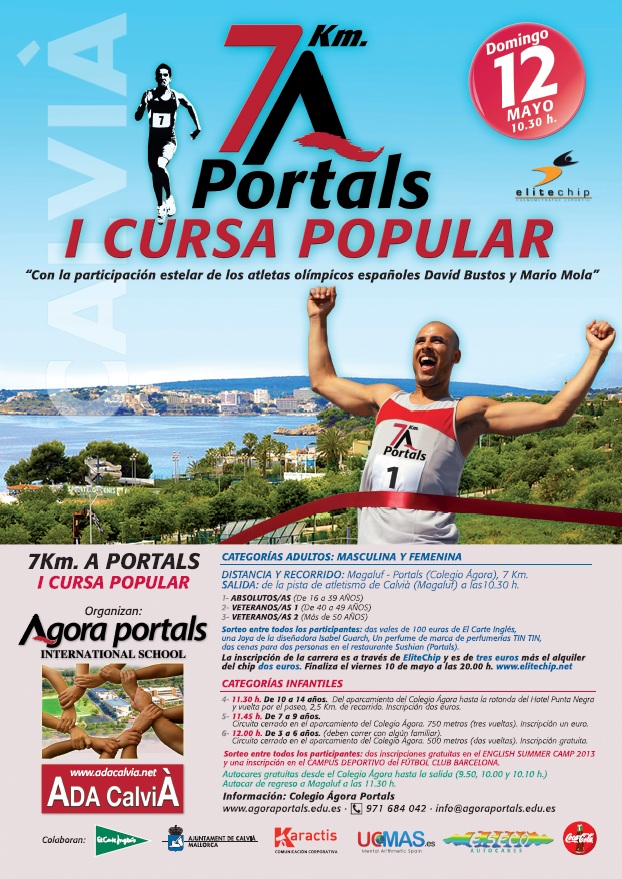 ORGANIZACION CARRERA POPULAR
7/ A Portals
CATEGORIAS ADULTOS: MASCULINA Y FEMENINA
DISTANCIA Y RECORRIDO: Magaluf-Portals 7 Km por el paseo.
SALIDA: De la pista de atletismo de Magaluf a las 10:30
1- ABSOLUTOS/AS (De 16 a 39 AÑOS)
2- VETERANOS/AS 1 (De 40 a 49 AÑOS)
3- VETERANOS/AS 2 (Más de 50 AÑOS)
Sorteo entre todos los participantes: dos vales de 100 euros de El Corte Inglés, una Joya de la diseñadora Isabel Guarch, un perfume de marca de perfumerías TIN TIN, dos cenas para dos personas en el restaurante Sushian (Portals).
Inscripción de la carrera a través de Elitechip y es de tres euros más el alquiler del chip dos euros. Finaliza el viernes 10 de mayo a las 20:00 H www.elitechip.net
CATEGORIAS INFANTILES:
4- 11.30h De 10 a 14 años. Del aparcamiento del colegio Ágora hasta la rotodna del Hotel Punta Negra y vuelta por el paseo 2,5 Km. de recorrido. Inscripción un euro. (chip gratuito)
5- 11.45h De 7 a 9 años. 3 VUELTAS 750 METROS. Inscripcion y chip gratuito
6- 12.00h DE 3 a 6 años (DEBEN CORRER CON ALGÚN FAMILIAR) Circuito cerrado en el aparcamiento del colegio. 500 METROS (2 vueltas). Inscripción y chip gratuito.
Sorteo entre todos los participantes: dos inscripciones gratuitas en el ENGLISH SUMMER CAMP 2013 y una inscripción en el CAMPUS DEPORTIVO del FÚTBOL CLUB BARCELONA
Autocares gratuitos desde el Colegio Ágora hasta la salida (9.50, 10.00 y 10.10h.). Autocar de regreso a Magaluf a las 11.30 h.
Información: Colegio Ágora Portals www.agoraportals.edu.es Telf. 971 684 042 mail: info@agoraportals.edu.es
Warning Elitechip Queries!
Elitechip is not constantly checking Facebook conversations. If you have any questions or queries regarding the competition or other issue, please use the
Contact Form
so we can reply you in the shortest possible time.