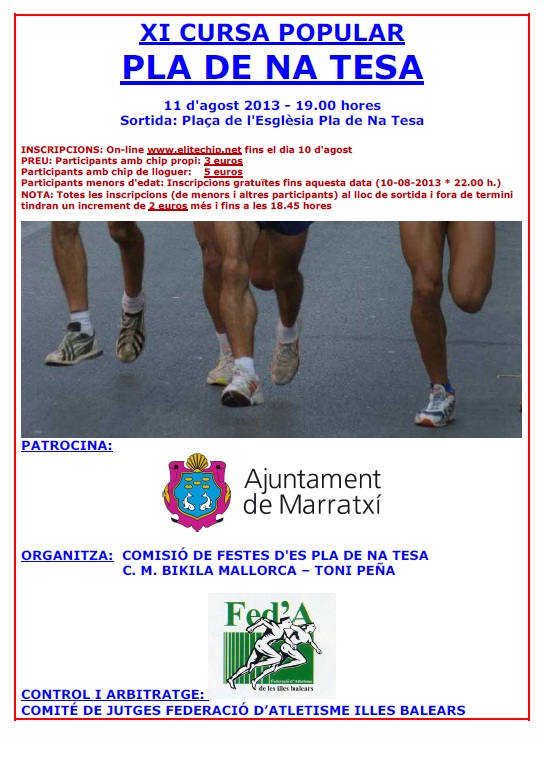 XI CURSA POPULAR PLA DE NA TESA
CATEGORIES
1.-Menors 2.300 m (1 volta circuit) (nins i nines fins a 14 anys inclosos)
2.-Populars 4.600 m (2 voltes circuit) (homes i dones majors 15 anys)
3.-Absoluta masculina 9.200 m (4 voltes circuit) (atletes masculins majors de 18 anys i fins a 39 inclusiu)
4.-Absoluta femenina 9.200 m (4 voltes circuit) (totes les atletes femenines majors de 18 anys)
5.-Veterans masculins 9.200 m (4 voltes circuit) (atletes masculins majors de 40,45,50,55,60, 65 anys i més)
PREMIS A LES CATEGORIES
Menors masculins: 3 trofeus per als 3 primers classificats
Menors femenines: 3 trofeus per a les 3 primeres classificades
Populars masculins: 3 trofeus per als 3 primers classificats
Populars femenines: 3 trofeus per a les 3 primeres classificades
Absoluta masculina: 5 trofeus per als 5 primers classificats
Absoluta femenina: 5 trofeus per a les 5 primeres classificades
Veteranes W-35: 3 trofeus per als 3 primers classificats
Veteranes W-40 i més: 3 trofeus per als 3 primers classificats
Veterans M-40: 3 trofeus per als 3 primers classificats
Veterans M-45: 3 trofeus per als 3 primers classificats
Veterans M-50: 3 trofeus per als 3 primers classificats
Veterans M-55: 3 trofeus per als 3 primers classificats
Veterans M-60: 3 trofeus per als 3 primers classificats
Veterans M-65 i més: 3 trofeus per als 3 primers classificats
NOTES D'INTERÉS:
* Segons la disponibilitat de l'organizació, haurà premis en metàl.lic per als 5 primers atletes classificats de la cursa absoluta masculina i femenina.
* Hi haurà avituallament a cada volta.
* La sortida es farà conjuntament per a totes les categories.
* Lliurament de premis al finalitzar la cursa.
* Hi haurà camiseta conmemorativa per les 200 primeres inscripcions gracies a l'aportació de l'empresa BdB Sastreroca
Warning Elitechip Queries!
Elitechip is not constantly checking Facebook conversations. If you have any questions or queries regarding the competition or other issue, please use the
Contact Form
so we can reply you in the shortest possible time.