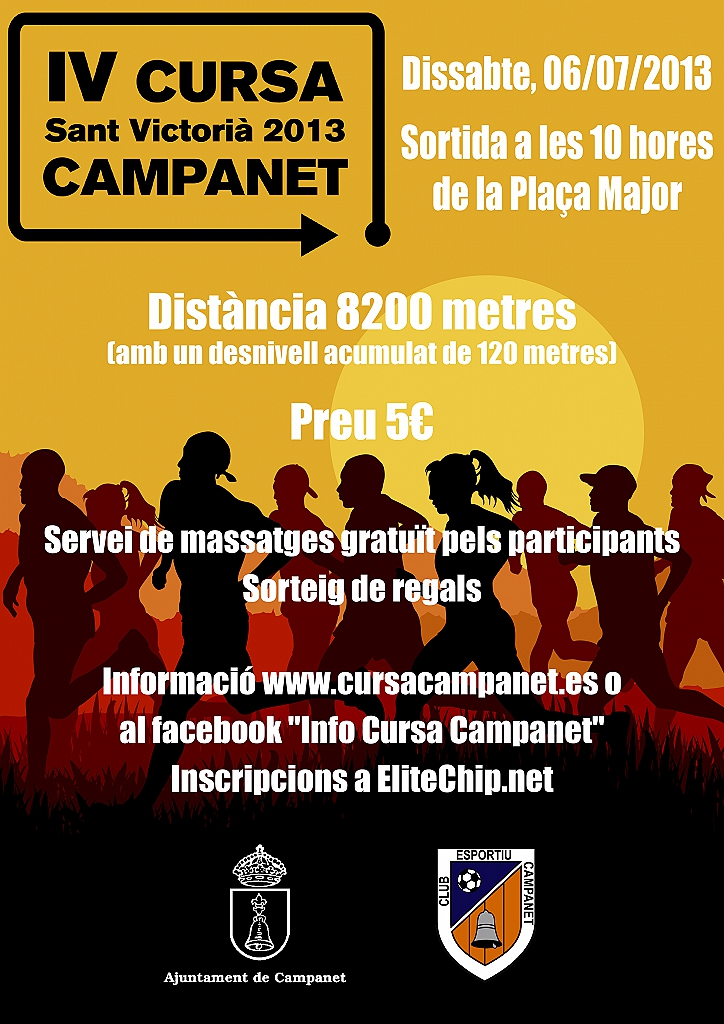 Entitats organitzadores:
Ajuntament de Campanet – Club Esportiu Campanet
Sortida i arribada
:
Plaça Major de Campanet, a les 10:00 hores de dissabte 6 de juliol de 2013.
La sortida de la cursa es donarà amb puntualitat per tal d'evitar més calor de la necessària. Es prega a les persones participants màxima puntualitat i agilitat en el tràmit de recollida de dorsal.
Preu:
La inscripció serà de 5€ per a tots els participants a través de la plataforma Elitechip. El lloguer del chip serà de 3€.
Inscripcions:
A la web d'Elitechip fins el divendres 5 de juliol de 2013 a les 22 h.
Edat mínima
:
18 anys complits el dia de la cursa, amb autorització signada pels pares o tutors els menors d'edat, que s'haurà d'entregar a la recollida del dorsal. Es recomana que els esportistes veterans hagin passat una prova prèvia d'aptitud.
Recorregut
:
Distància de 8.200 metres (amb un desnivell acumulat de 120 metres) per carrers i carreteres de Campanet, amb regulació del trànsit.
Warning Elitechip Queries!
Elitechip is not constantly checking Facebook conversations. If you have any questions or queries regarding the competition or other issue, please use the
Contact Form
so we can reply you in the shortest possible time.