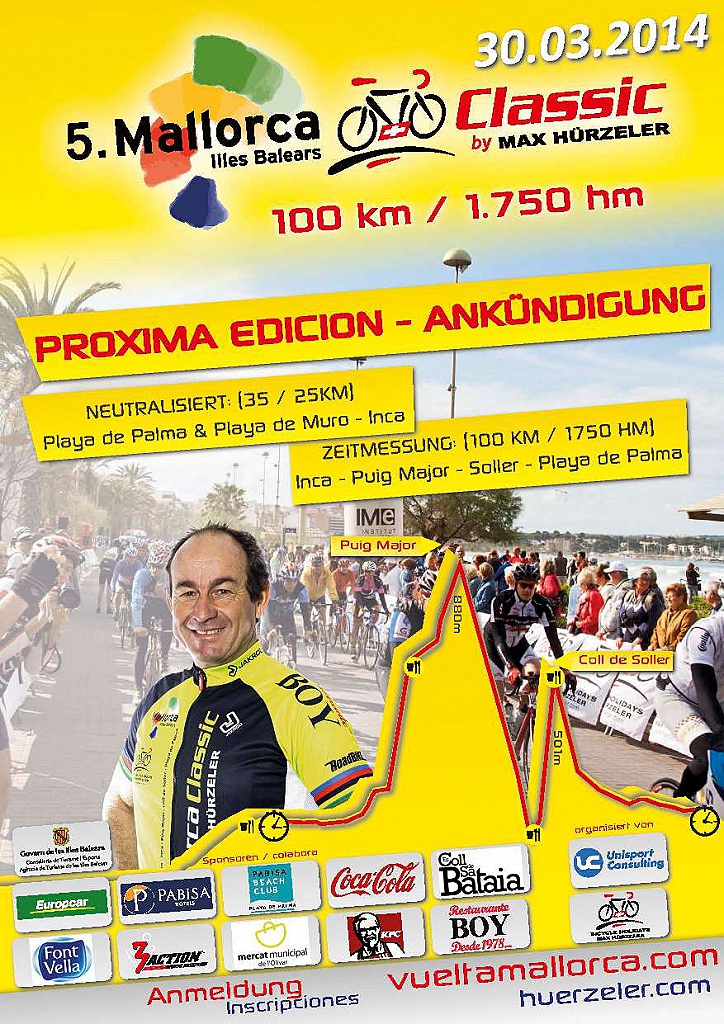 Inscripciones on-line - Mallorca Classic by Max Hürzeler 2014
LA ENTREGA DE DORSALES SE REALIZARÁ EN:
Pabisa Beach Club, Carretera Arenal, nº 56 (entre los Balnearios 4 y 5 de la Playa de Palma) – 07600 Palma entre los Balnearios 4 y 5 de la Playa de Palma los días 26, 28 y 29 de marzo de 2014 de 17 a 20 horas y el domingo día 30 de marzo (mismo día de la prueba) de 8 a 9 horas.
Hotel Iberostar Playa de Muro Av. Albufera, nº 8 – 07458 Playa de Muro, los días 27 y 29 de marzo de 17 a 20 horas.
NO SE ENTREGARAN DORSALES Y CHIPS EN INCA
"La Mallorca Classic by Max Hurzeler celebra el 30 de Març de 2014 su Quinta edición. Como en la pasada edición, esta marcha cicloturista tendrá dos salidas neutralizadas (desde el Pabisa Beach Club de la Playa de Palma y desde el Iberostar Playa de Muro) que se juntarán en la localidad de Inca. Desde allí, comenzará la salida cronometrada, con un recorrido que pasará por el Coll del Puig Major y el Coll de Sóller, para llegar de nuevo hasta la Playa de Palma. Casi 100 kilómetros para los ciclistas más atrevidos".
Warning Elitechip Queries!
Elitechip is not constantly checking Facebook conversations. If you have any questions or queries regarding the competition or other issue, please use the
Contact Form
so we can reply you in the shortest possible time.