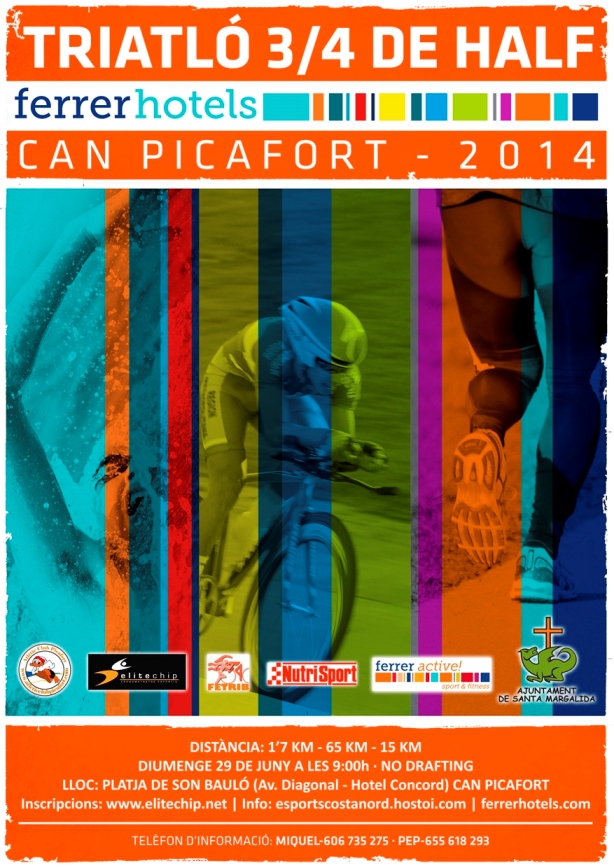 Distancia - 1700 m Swim / 65 km ciclisme / 15.000 m carrera
Diumenge dia 29 de juny a les 8:30 h - NO Drafting
ATENCION!!! CAMBIO DE HORARIO!!!!
Lloc: Platja de Son Bauló
CATEGORIAS
Se establecen las siguientes categorías para la siguiente competición:
-Categorías individuales:
Se darán trofeos a los tres primeros clasificados masculino y femenina de cada categoría individual.
-Categoría de relevos:
HORARIOS
-Sábado 28 de junio:
-Domingo 29 de junio (día de carrera):
-07:00 a 08:15 horas recogida de dorsales en el Hotel Concord.

-07:15 horas abertura de boxes. -08:15 horas cierre de boxes.

-08:30 horas salida carrera individual

-08:45 horas salida equipos de relevos(se puede modificar y salir con los individuales)

-13:00 horas abertura de boxes y check out.

-Entrega de premios, una vez terminado el triatlón en el Hotel Concord (se estima a las 13:30 horas).
Warning Elitechip Queries!
Elitechip is not constantly checking Facebook conversations. If you have any questions or queries regarding the competition or other issue, please use the
Contact Form
so we can reply you in the shortest possible time.