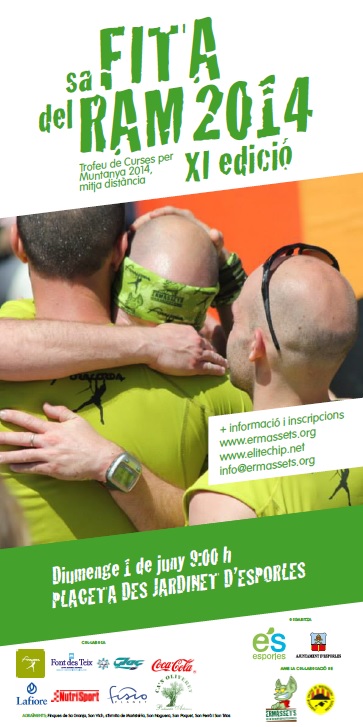 Sa Fita del Ram
01/06/2014 a les 9.00 h.
16,8 Km. aprox. amb un desnivell de 1000d+
Les inscripcions es tancaran el dia 29 de Maig a les 20.00h
En principi s'oferiran 250 places en obert a tots els federats, en el cas en que quedassin corredors fora d'inscripció s'habilitaria una llista d'espera per ordre de petició, fent la sol·licitud a la direcció: curses@ermassets.org
Perfil Cursa
Calendari 2014
Calendari del Campionat TCM 2014
Febrer
Dia 16 MD Sa Talaia d'Alcúdia (21km)
Març
Dia 16 LLD Massanella - Tossals Verds (30 km)
Dia 30 LLD Tomir (44km)
Abril
Dia 6 CD Puig de Santa Magdalena – Inca (7km)
Maig
Dia 4 LLD Mitja Marató de Sóller (Camp. Balears individual)
Juny
Dia 1 MD Fita des Ram (17km)
Dia 22 CD Cas Secretari (6km)
Juliol
Dia 13 CD Penyal d'Honor (6km)
Agost
Dia 3 CD Barranc de Biniaraix (6km)
Setembre
Dia 14 MD Comuna de Bunyola (13km) (Campionat Balears clubs)
Octubre
Dia 5 MD Castell d'Alaró (12km)
Dia 26 LLD Cursa d'Artà (42km)
Warning Elitechip Queries!
Elitechip is not constantly checking Facebook conversations. If you have any questions or queries regarding the competition or other issue, please use the
Contact Form
so we can reply you in the shortest possible time.