XI Sa Milla - Club Nautic Arenal - Cala Blava

30-agosto-2014
09:30 h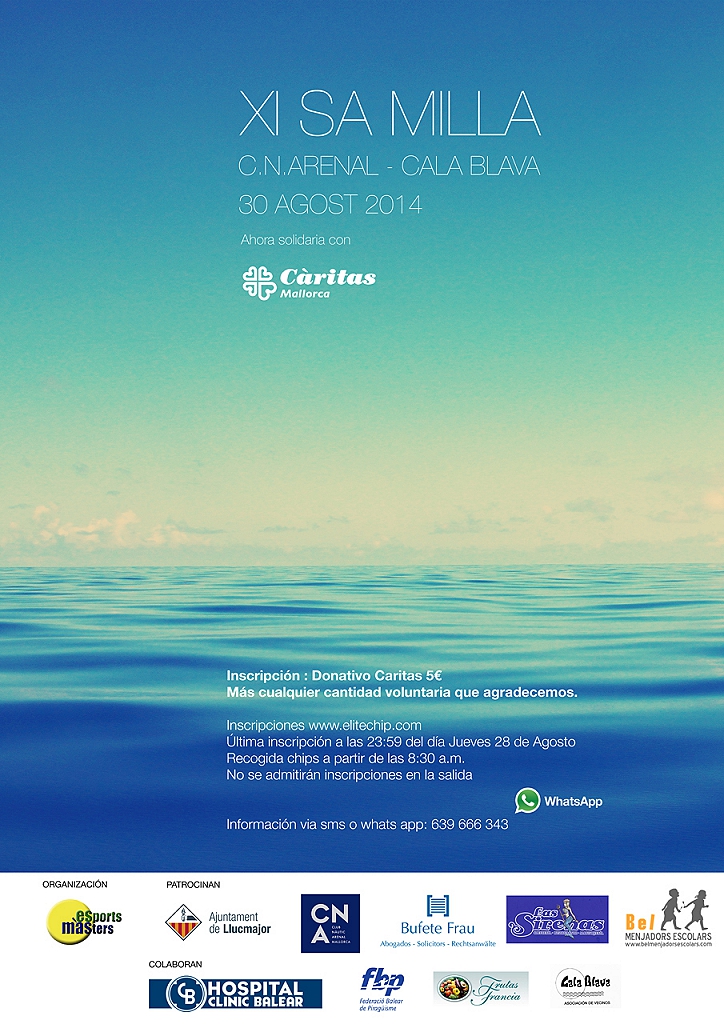 Ahora solidaria con Cáritas (donativo 5 euros).
Es obligatorio la cumplimentación de la autorización para los menores de edad. La pueden descargar de la documentación adjunta y entregarla debidamente cumplimentada el día de la competición.
Horario de Salida:
09:30 h categorías A F G H, Mayores de 85 años, categorías femenina y especial Paralimpicos.
09:45 h salida al resto de categorías
Distancia: Una milla náutica 1852 metros
Con el fin de evitar que se retrase la salida no se permitirán inscripciones en la linea de salida.
+info: SMS / WHATSAPP 639 666 343
Las categorías premiadas serán:
Trofeo al vencedor y vencedora absoluta, ofrecidos por Las Sirenas Restaurante Marisquería.
Medallas de oro, plata y bronce a los primeros, segundos y terceros de cada categoría, gentileza del Club Náutico de S'Arenal.
Trofeo al nadador o nadadora de menor edad de los participantes y que complete Sa Milla.
Trofeo al nadador o nadadora de más edad de los participantes y que complete Sa Milla.
CATEGORIAS

NACIDOS

MAS/FEM

DEL

AL

A

2000

2009

DE 5 A 14 AÑOS

B

1990

1999

DE 15 A 24 AÑOS

C

1980

1989

DE 25 A 34 AÑOS

D

1970

1979

DE 35 A 44 AÑOS

E

1960

1969

DE 45 A 54 AÑOS

F

1950

1959

DE 55 A 64 AÑOS

G

1940

1949

DE 65 A 74 AÑOS

H

1930

1939

DE 75 A 84 AÑOS

ESPECIAL

PARALIMPICOS

MAYORES 85 AÑOS

A PARTIR DE 85 AÑOS
Warning Elitechip Queries!
Elitechip is not constantly checking Facebook conversations. If you have any questions or queries regarding the competition or other issue, please use the
Contact Form
so we can reply you in the shortest possible time.