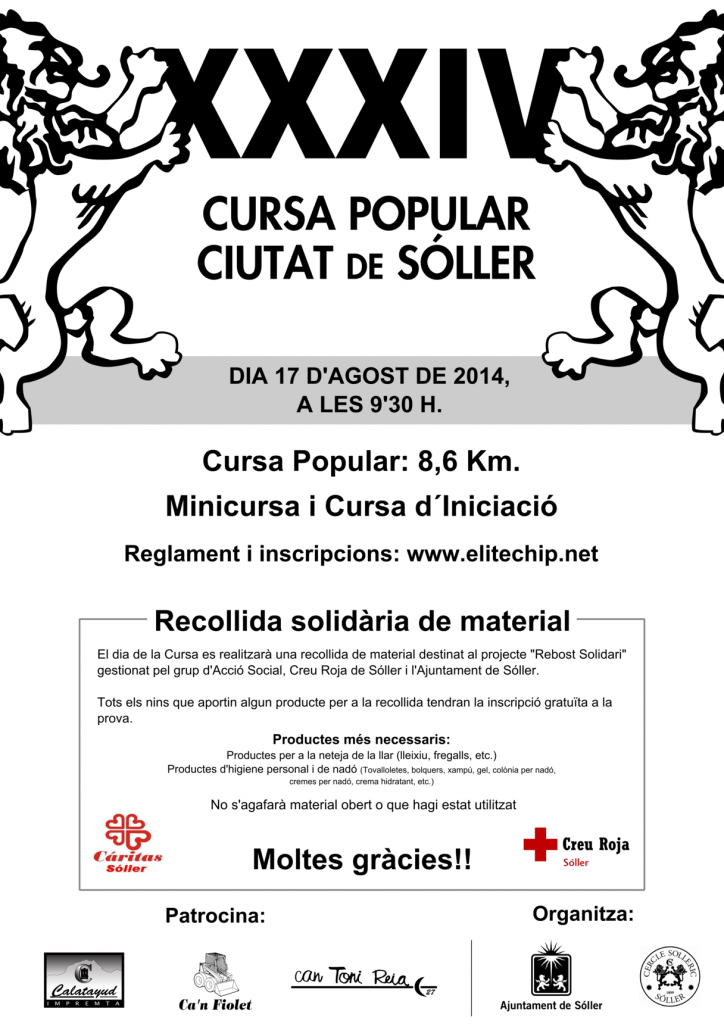 XXXV CURSA POPULAR CIUTAT DE SÓLLER
-REGLAMENT-
1. Data de celebració:
Diumenge 17 d'agost de 2014
2. Participació: Tothom que ho vulgui, sota la seva responsabilitat, fins a omplir el màxim de 500 participants
3. Recorregut i distàncies: Sóller - Port de Sóller – Sóller, amb un recorregut aproximat 8.830 metres . Sortida a les 9.30h. 4. Premis: L'organització es compromet a atorgar trofeu per als tres primers classificats de cada categoria, masculí i femení. L'organització podrà concedir altres trofeus especials segons consideri i d'acord amb la inscripció i l'estímul de la participació .
5. Categories i any de naixement:
CATEGORIA ANY NAIXEMENT
CADET 1999-2000

JUVENIL / JUNIOR 1995-1998

PROMESA 1992-1994

SENIOR 1975-1991

VETERANS A 1965-1974

VETERANS B 1955-1964

VETERANS C 1954 i anteriors
6. La inscripció es realitzarà a través de la web www.elitechip.net. Cost inscripció: 4€ (Federats atletisme: 3€). A la inscripció figurarà: nom, llinatges, club/localitat, data naixement, sexe i DNI. El període d'inscripció estarà obert fins el divendres 16 d'agost a les 12h. El cronometratge es realitzarà mitjançant xip, si no es disposa de xip propi es pot llogar un amb un cost addicional de 3€
La inscripció suposa l'acceptació d'aquest reglament.
7. Recollida de dorsals: El dia de la prova fins a 30 minuts abans de la sortida.
8. Reclamacions: Només s'acceptaran reclamacions fins a 15 minuts després de finalitzar la prova, per escrit i amb un dipòsit de 60€ 9. Danys: L'organització conta amb les corresponents assegurances de responsabilitat civil i d'accidents, segons la normativa vigent. A més hi haurà un servei d'assistència mèdica i ambulàncies encarregades de l'assistència primària en cas d'accidents. 10. La cursa serà controlada per l'organització. 11. L'organització es reserva el dret de modificar qualsevol dels punts anteriors. 12. L'esperit esportiu i popular és el que inspira la convocatòria d'aquesta prova. El participant que manifesti un comportament antiesportiu o antisocial serà desqualificat i exclòs de la prova pels organitzadors. Tal circumstància serà comunicada a la Direcció General d'Esports que podrà adoptar el que estimi oportú.
Sign-up Comments
RECOLLIDA SOLIDÀRIA DE MATERIAL
Productes més necessaris:Productes per a la neteja de la llar (lleixiu, fregalls, etc.)Productes d'higiene personal i de nadó (Tovalloletes, bolquers, xampú, gel, colònia per nadó, cremes per nadó, crema hidratant, etc.) No s'agafarà material obert o que hagi estat utilitzat
MOLTES GRÀCIES!
Warning Elitechip Queries!
Elitechip is not constantly checking Facebook conversations. If you have any questions or queries regarding the competition or other issue, please use the
Contact Form
so we can reply you in the shortest possible time.