INSCRIPCIONES AGOTADAS!!!
Fecha:
16 de mayo de 2015
Salida:
Sant Ferran. Crta. La Mola, Km. 6,2, a las 17:30 horas
Meta:
Paseo de la Marina (La Savina).
Hora límite de llegada:
a las 19:30 horas.
Límite inscripción:
700 participantes
Precio de la inscripción:
15 € hasta el día 21 de abril de 2015.

20 € del 22 de abril al 11 de mayo 2015. (El día 11 de mayo a las 24 horas se cierra la inscripción online)

30 € Viernes 15 de mayo 2015. (No se podrán hacer nuevas inscripciones el sábado 16 de mayo 2015).

Los atletas que no tengan chip amarillo en propiedad deberán alquilar uno en el momento de realizar la inscripción (3€ de alquiler + 5€ fianza).
Más Información:
http://www.marato-formentera.com/
Link Directo a: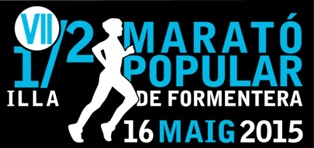 Warning Elitechip Queries!
Elitechip is not constantly checking Facebook conversations. If you have any questions or queries regarding the competition or other issue, please use the
Contact Form
so we can reply you in the shortest possible time.