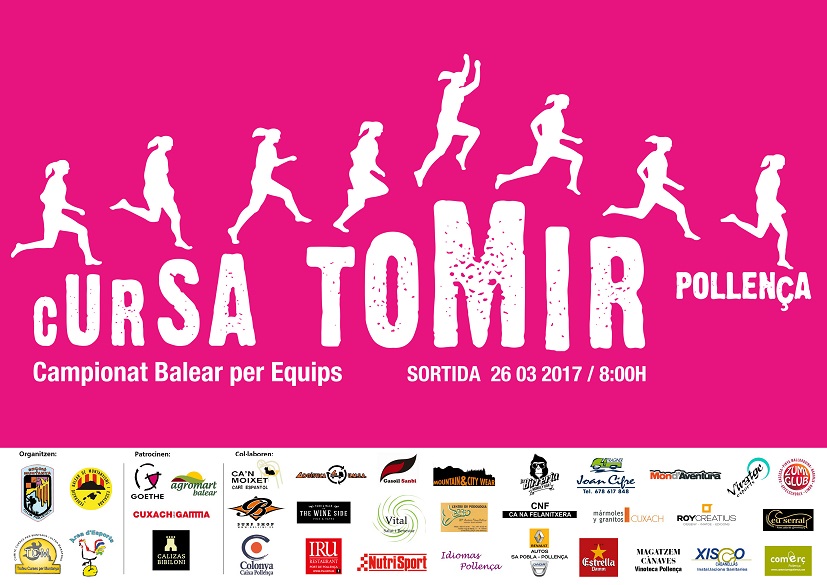 Cursa Tomir 42 2017
26/03/2017
Sortida Claustre de Sant Domingo a les 08:00 h
REGLAMENT CURSA TOMIR 2017
Campeonat Balears per Equips
Horaris Cursa
ENTREGA TROFEUS
NORMATIVA:
És estrictament necessari estar federat per realitzar l'inscripció.
La "Cursa Tomir" enguany és campionat de balears per seleccions de club.
Estan permesos els bastons. S'haurà de sortir de meta amb els bastons plegats. Aquests hauran de dur taps de goma i uns taps de goma de recanvi.
S'haurà de dur obligatòriament un recipient per beure als avituallaments.
Està estricament prohibit deixar residus a la muntanya.
Gels i barretes marcats amb el número de dorsal.
En funció de la previsió meteorològica es pot demanar material obligatori extra.
TANT LA CURSA COM EL CAMPIONAT DE BALEARS PER SELECCIONS DE CLUB S'ADAPTA AL REGLAMENT DE CURSES PER MUNTANYA DE LA FEDERACIÓ BALEAR DE MUNTANYA I ESCALADA
TALL DE PAS:
Coll Pedregaret (Km 23) à 12:30
Meta à 16:30
OBERTURA INSCRIPCIONS
13 març finalistes 20:00
14 març resta federats 20:00
Sign-up Comments
Enllaços a les classificacions 2017:
Warning Elitechip Queries!
Elitechip is not constantly checking Facebook conversations. If you have any questions or queries regarding the competition or other issue, please use the
Contact Form
so we can reply you in the shortest possible time.