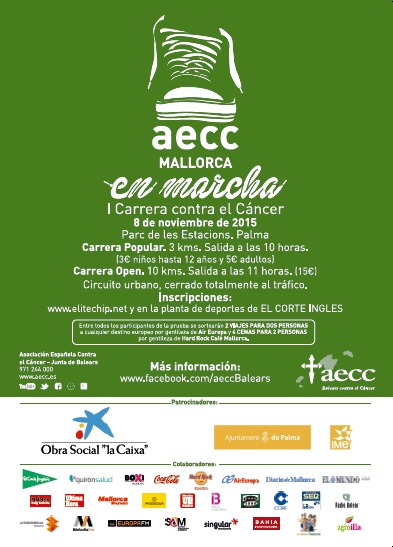 "AECC, Mallorca en marcha" I CARRERA CONTRA EL CÁNCER, 8 de noviembre de 2015.
Carrera solidaria organizada por la Junta Provincial de Baleares de la Asociación Española contra el Cáncer.
Colabora en la lucha contra el cáncer participando en una de las dos modalidades:
POPULAR (3 kms), a las 10 horas
OPEN (10 kms), a las 11 horas.
Salida y llegada en el Parque de Ses Estacions de Palma.
Las inscripciones se donarán íntegramente a la AECC.
Los precios de la Carrera Popular son de 3 € para niños y niñas hasta 12 años y 5 € para los adultos y de 15 € para la Carrera Open.
Entre todos los participantes se sortearán 2 viajes para 2 personas a cualquier destino europeo donde vuele la compañía Air Europa y 4 cenas para 2 personas, genitleza de Hard rock Café Mallorca, empresas colaboradoras del evento.
Fecha límite inscripciones día 5 de noviembre, a las 23:59 horas.
RETIRADA DE DORSALES:
Viernes, día 6 de noviembre, de 16 a 20 horas y sábado, día 7, de 10 a 20 horas, en la planta de deportes de El Corte Inglés de Avenidas. Para la retirada del dorsal será imprescindible presentar el comprobante de la inscripción y un documento oficial de identidad (D.N.I., pasaporte, carné de conducir).
Warning Elitechip Queries!
Elitechip is not constantly checking Facebook conversations. If you have any questions or queries regarding the competition or other issue, please use the
Contact Form
so we can reply you in the shortest possible time.