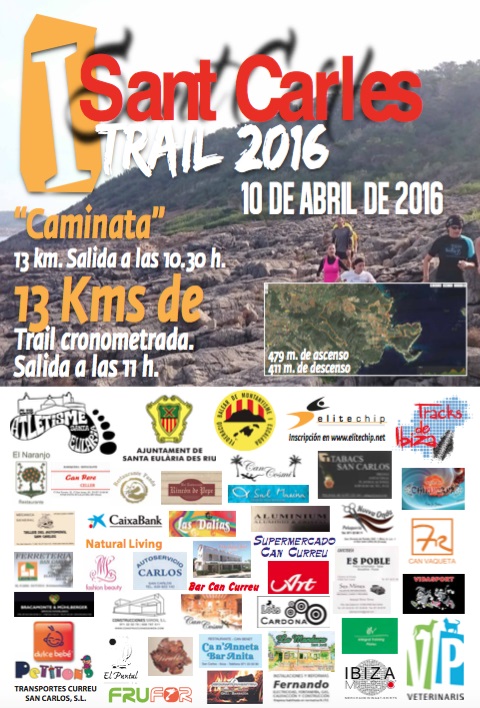 I Sant Carles Trail es una carrera por montaña que esta dentro de la Federación Balear de Montaña y Escalada.
3. CATEGORlAS
Senior mujeres y hombres: participantes entre 18 y 29 años
Veteranos y Veteranas 30: entre los 30 y 39 años
Veteranos mujeres y hombres: participantes entre 40 i 49 años
Master 50 mujeres y hombres: participantes entre 50 i 59 años
Master 60 mujeres y hombres: participantes entre 60 i 69 años 3.2
La edad a tener en consideración será la que el participante tendrá el día 31 de diciembre del año de la competición.
Enlace del evento http://www.atletismesantaeularia.es
Información importante: la entrega de dorsales se hará en la pizzería Fra Tak (Las Dalias) será el sábado 9 de 18 a 20 horas y luego hacer un briefing.
El domingo desde las 9h en Cala Boix
Los trofeos: Los trofeos no son en ningún caso acumulables en ninguna de las categorías especi?cadas en el reglamento.
Habrá trofeos, a los tres primeros clasi?cados absolutos masculino y femenino de la carrera y a los tres primeros de cada categoría tanto en masculino como femenino.
Precios:
* Carrera 10€ + 3€ seguro
* Caminata 10€ sin seguro
* Bus 5€
* Camiseta de regalo hasta el 27 de marzo.
Warning Elitechip Queries!
Elitechip is not constantly checking Facebook conversations. If you have any questions or queries regarding the competition or other issue, please use the
Contact Form
so we can reply you in the shortest possible time.