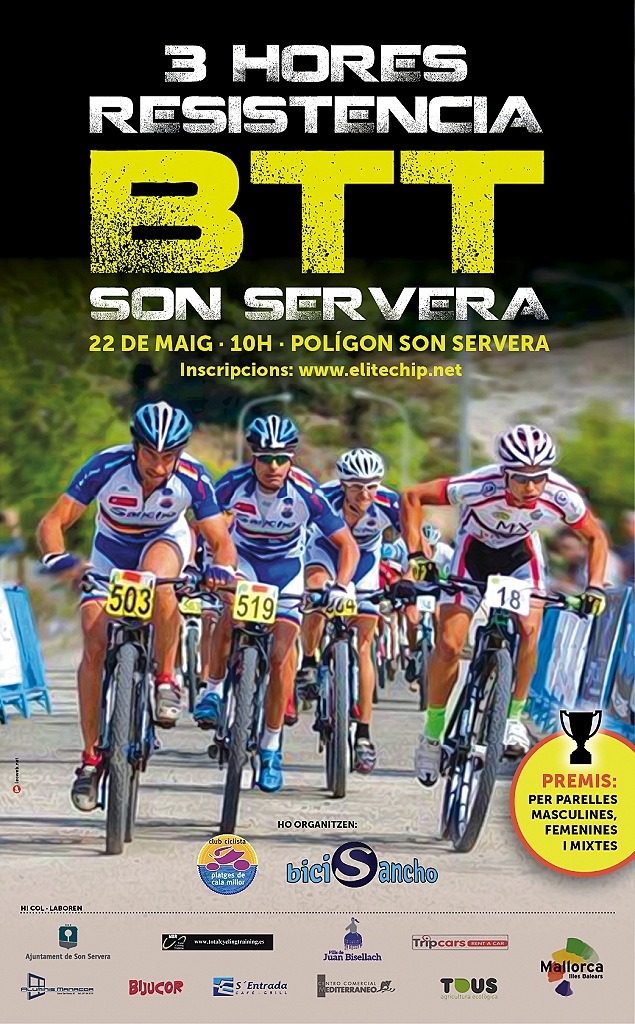 PROVA BTT NON STOP 3 HORES SON SERVERA
SE DISPUTARÀ DIUMENGE 22 DE MAIG
10:00H. SON SERVERA (POLÍGONO INDUSTRIAL)
TIPO PRUEBA: MTB NON STOP
LUGAR Y FECHA: SON SERVERA 22 DE MAYO 2016
MODALIDAD: PAREJAS
RECORRIDO: 3 HORAS DE DURACIÓN EN UN CIRCUITO DE APROXIMADAMENTE 5 KM.
CATEGORÍAS:
PAREJAS MASCULINO
PAREJAS FEMENINO
PAREJAS MIXTAS
PRECIOS INSCRIPCIÓN:
HASTA EL 15 DE MAYO: 35,00€ FEDERADOS Y 45,00€ NO FEDERADOS (POR PAREJA)*
DEL 16 AL 20 DE MAYO: 40,00€ FEDERADOS Y 50,00€ NO FEDERADOS (POR PAREJA)*
DÍA DE LA PRUEBA: 60,00€ FEDERADOS Y NO FEDERADOS (POR PAREJA)*
*AÑADIR 3,00€ EN CASO DE ALQUILER DE CHIP.
DERECHOS DE INSCRIPCIÓN:
PARTICIPACIÓN I RESISTENCIA BTT SON SERVERA.
ASISTENCIA MÉDICA
SEGURO DE ACCIDENTES Y RESPONSABILIDAD CIVIL.
AVITUALLAMIENTO SÓLIDO Y LÍQUIDO DURANTE LA PRUEBA.
TENTEMPIÉ AL FINALIZAR LA PRUEBA.
PREMIOS: OBSEQUIOS A LOS 3 PRIMEROS CLASIFICADOS POR CATEGORÍA.
Warning Elitechip Queries!
Elitechip is not constantly checking Facebook conversations. If you have any questions or queries regarding the competition or other issue, please use the
Contact Form
so we can reply you in the shortest possible time.