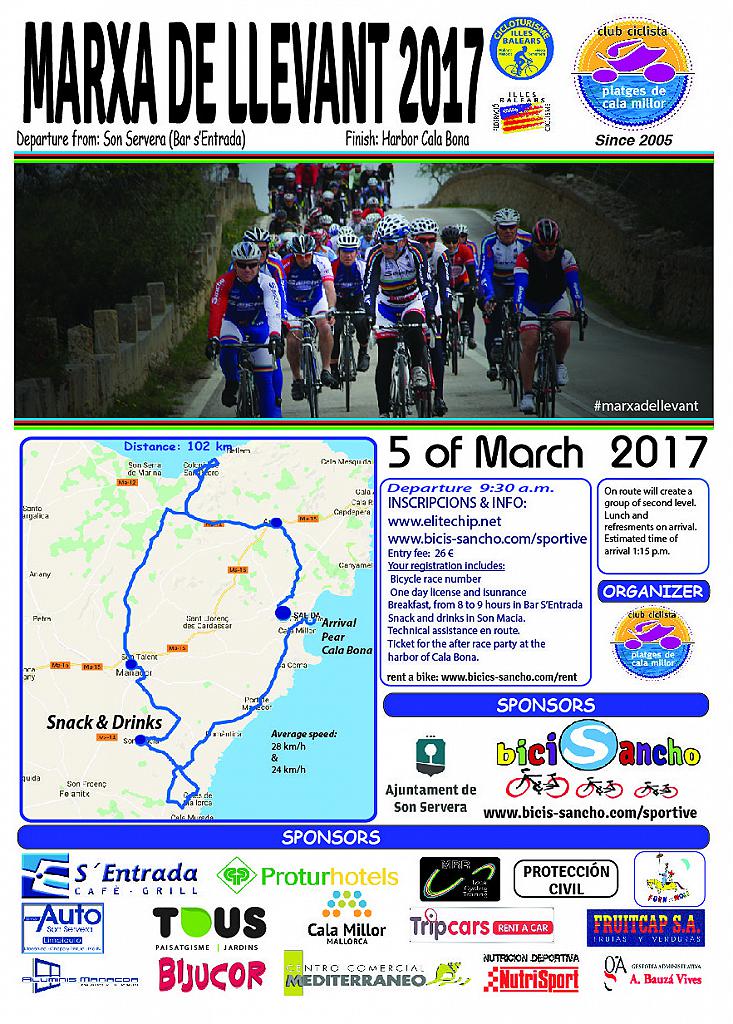 Once again we welcome all cyclists from all corners of this cyclotourist celebrated in the area of the Levant Mallorquín baptized as the "Marxa de Llevant" which is already 16 years old.
Exit of the marx de llevant 2017
Remember our bases of participation:
All cyclists and riders are invited to the appointment.
The concentration will take place from the Bar-Rte. S'Entrada, where you can have breakfast before leaving.
The route always runs along roads with lower traffic flow.
At midmorning we will have liquid and solid supplies in the Plaza de Son Macia.
Obligatory use of the helmet. An end of party with delivery of gifts and acknowledgments. In arrival goal there are two public car parks where you can park easily. It is recommended to leave the car there in the morning and go cycling to the exit of Meta, located 3.5 km in Son Servera.
The end of the tour in the port of Cala Bona will offer all participants and accompanying an exquisite menu made by the ladies of the house, in a privileged site such as the port of Cala Bona, with spectacular views to the sea and the whole Badia of Cala Bona and Cala Millor.
Marxa de llevant port of cala bona
ROUTE
SON SERVERA - CALA BONA 102 km
Saturday, March 5th. At 9:30 a.m. Son Servera
Organized by: Cyclist Club Platges de Cala Millor
Departure from Bar S'Entrada (C / Joana Roca)
Towards Arta and direction to Sa Coloni de San Pere
Manacor towards Son Macia (Avuituallamiento)
Arrival at the port of Cala Bona. (Fishermen's hut)
Inscriptions
www.elitechip.net From February 1, 2017 (until Friday, March 3 at 00:00)
Federated 15 eur eur
not Federated 26 eur
Accompanying persons 8 eur (Breakfast and lunch end of party)
The prices include:
1-day FCIB license with insurance R.C.
Breakfast, from 8 to 9 hours.
Solid and liquid equipment in Son Macia.
Technical assistance en route.
End-of-holiday meal in the port of Cala Bona (Fishermen's hut)
Warning Elitechip Queries!
Elitechip is not constantly checking Facebook conversations. If you have any questions or queries regarding the competition or other issue, please use the
Contact Form
so we can reply you in the shortest possible time.