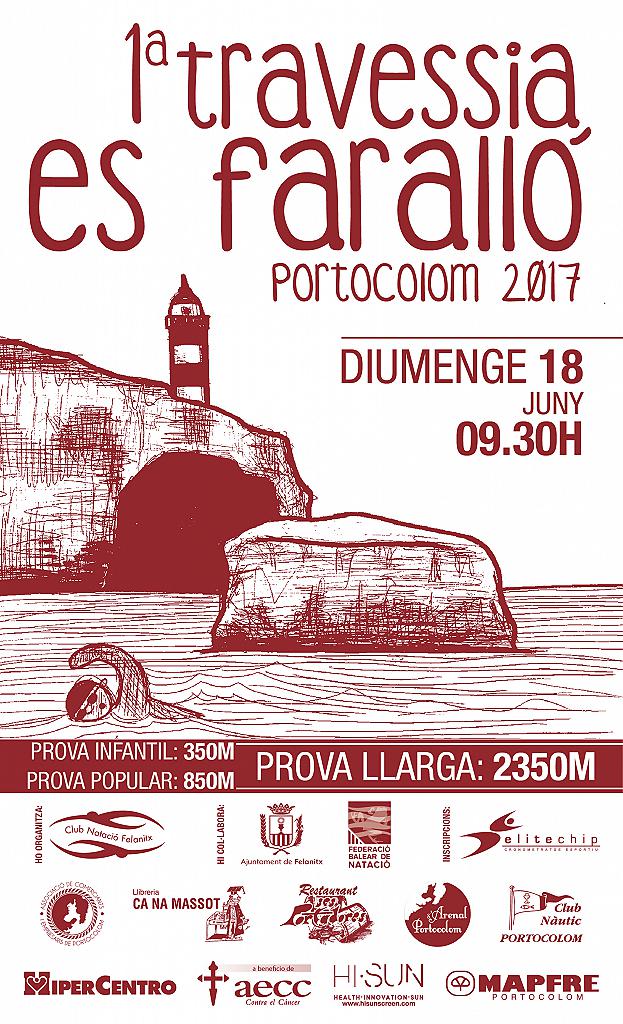 I Travessia Es Faralló
LA FECHA DE CELEBRACION DE LA PRUEBA ES 18 DE JUNIO DE 2017
HORA DE COMIENZO 09.30
LUGAR playa de s'Arenal de Portocolom.
PRECIOS INSCRIPCIONES
Prueba INFANTIL: GRATIS.
Prueba POPULAR 6 euros
Prueba LLARGA 9 euros
La inscripcion incluye: Gorro, seguro y avituallamiento posterior a la celebracion de las pruebas.
El Club Natació Felanitx destina 1 euro por cada participante, incluyendo la prueba infantil, a la Asociación Española Contra el Cancer
DISTANCIAS
Prueba Infantil 350 mtrs.
Prueba Popular 850 mtrs.
Prueba Larga 2.350 mtrs.
Horario de recogida:
El gorro se recogerá el dia 18 de Junio de 2017 en la playa de s'Arenal de Portocolom en los horarios siguientes:
08.30 a 09.15 participantes de la prueba infantil
08.30 a 09.30 participantes en la prueba popular
08.30 a 10.00 participantes en la prueba larga.
ESTA PRUEBA NO SE CRONOMETRARA CON CHIP
Fecha tope inscripciones dia 16 Junio 2017 23.00 horas.
Warning Elitechip Queries!
Elitechip is not constantly checking Facebook conversations. If you have any questions or queries regarding the competition or other issue, please use the
Contact Form
so we can reply you in the shortest possible time.