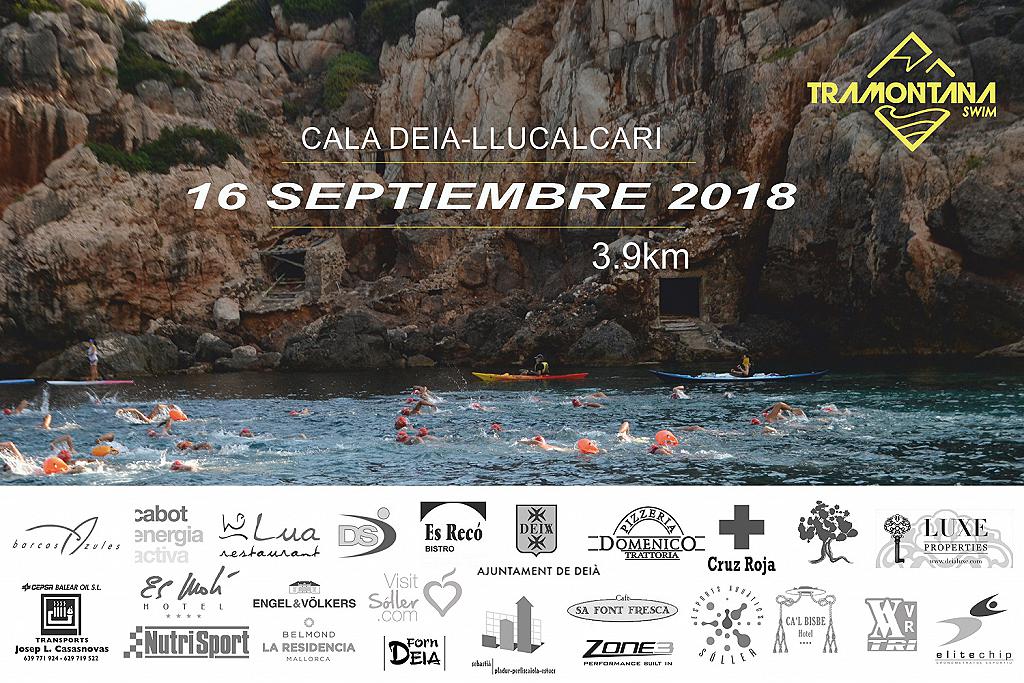 Travesia Tramontana Swim Cala Deia-LLucalcari

Important:
La Travesia Tramontanaswim 3.9km ha sido cancelada por las inclemencias meteorológicos adversas que se pronostica para mañana domingo dia 16.
No se puede garantizar una calidad correcta de la organizacion debido a la lluvia.
Gracias y disculpas por las molestias.
Un cordial saludo
TRAMONTANA SWIM es una travesía a nado impulsada por el Ayuntamiento de Deia organizada por el equipo de Tramontana Swim. La prueba tiene lugar en un circuito de 3.900 mts. entre la Cala Deia Llucalcari y vuelta a la Cala Deia.
Horario:
9:00

-9:30

Recogida de chip y gorro en la Cala Deia

9:00-9:30

Servicio de guardarropas en el Muelle de la Cala Deia

9:45

Control de Chip

10.00

Salida de la Travesía TRAMONTANA SWIM desde el agua para todos los nadadores (Competitiva, No competitiva).
Durante toda la Travesía se tendrá un seguimiento de los nadadores con kayaks padel surf y embarcaciones a motor.
Habrá una embarcación medicalizada y servicio de ambulancia en las playas. Avituallamiento: Todos los kayaks llevaran servicio de avituallamiento para los nadadores.
Categorías
18-35

Años. Masculina y femenina

36-55

Años. Masculina y femenina

+55

Masculina y femenina.
Al finalizar la Travesía de todos los nadadores se realizará la entrega de premios por categorías.
Premios por categorías:
3 primeros de la general

(masculino y femenino)

3 primeros por categorías

(masculino y femenino)

Mejor Nadador de Deia

Nadador más joven

Nadador más mayor
Mas info en : www.tramontanaswim.com
Warning Elitechip Queries!
Elitechip is not constantly checking Facebook conversations. If you have any questions or queries regarding the competition or other issue, please use the
Contact Form
so we can reply you in the shortest possible time.