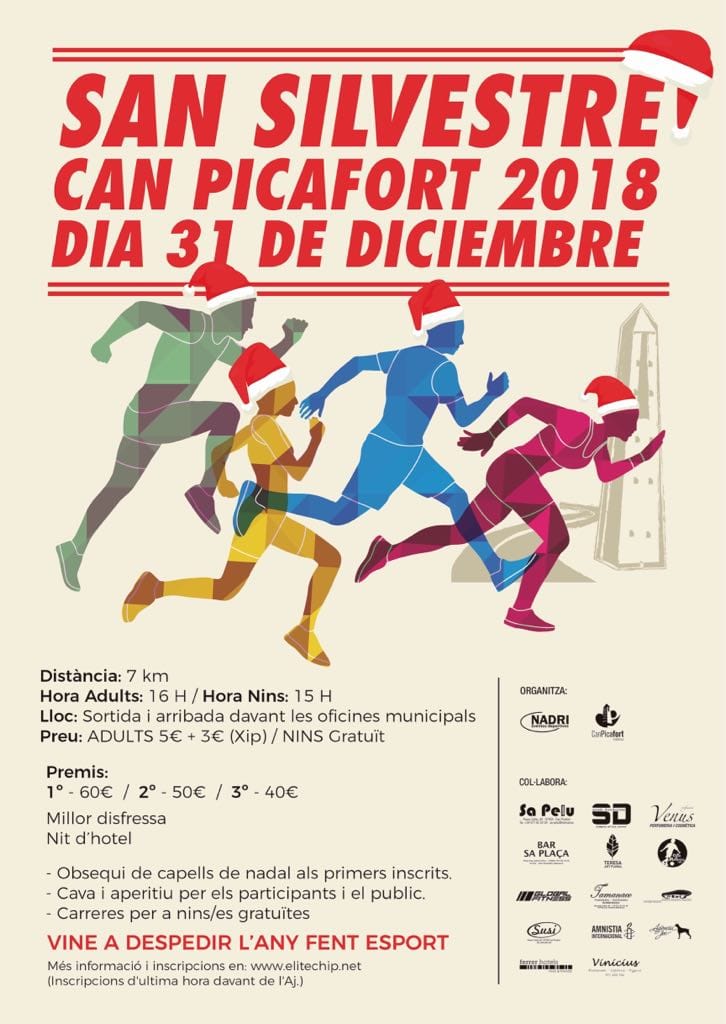 VI Sant Silvestre Can Picafort 2018
Hora de carrera: 16h
Salida y llegada: O?cinas municipales Delegación de Can Picafort
Día límite de inscripción:
Inscripción en Elitechip: 30 de diciembre a las 23.59 h Inscripción día de la prueba: 31 de diciembre de 15 a 15.45 h
Precio de inscripción: 5€ + 3€ de alquiler de Chip
Recogida de dorsales: 31 de diciembre de 15h a 15:45 h en frente O?cinas municipales Delegación de Can Picafort
Servicios que se incluyen: cronometraje, obsequio gorro de papanoel , avituallamiento después el recorrido, ambulancia.
Trofeos y premios:
PREMIO ECONÓMICO para los tres primeros clasi?cados:

Trofeo para los 3 primeros clasi?cados absolutos (masculino)

Trofeos para las 3 primeras clasi?cadas absolutas (Femenina)

Trofeo para el 1er local masculino

Trofeo para la 1ª local femenina

Premio 1 NOCHE DE HOTEL para el mejor DISFRAZ

Premio sorpresa para el 2º y 3r mejor DISFRAZ
Participantes menores de 16 años Hora de carrera: 15 h
Inscripción: A partir de las 14.30 h
Organizador: Delegación de Can Picafort (Santa Margalida) y NADRI Eventos Deportivos
Warning Elitechip Queries!
Elitechip is not constantly checking Facebook conversations. If you have any questions or queries regarding the competition or other issue, please use the
Contact Form
so we can reply you in the shortest possible time.