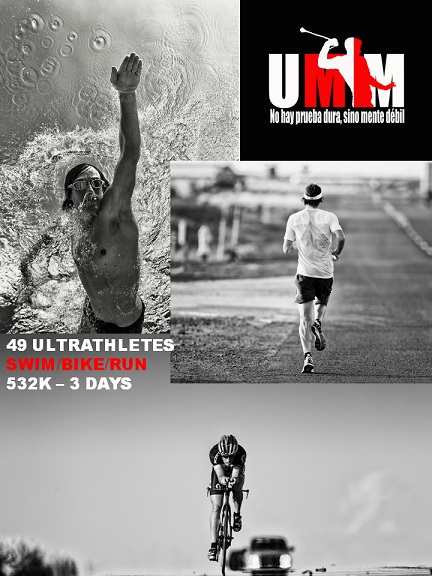 LA PRUEBA Por y para los UltrAtletas.
¿Estás preparado para conocer Mallorca y afrontar una de los retos más duros y bonitos que te han ofrecido?
El UltraMallorcaMan se construye sobre el formato del deporte de la ultradistancia, siendo si no el más duro, uno de las actividades deportivas más duras realizadas hasta el momento en la Isla de Mallorca y en todas las Illes Balears.
El UMM consta de 3 etapas a lo largo de 3 días, en los que los participantes deberán recorrer un total de 532k de los cuales 10k serán nadando, 438k en bicicleta y 84,4k corriendo, y todo ello en un máximo de 36 horas, donde sin duda alguna, los participantes deberán poner el cuerpo y la mente al límite, para poder conseguirlo acabar.
La filosofía del UMM y sus fundamentos son, la cultura del esfuerzo, el sacrificio y la superación personal, redescubrir sentimientos y valores como humildad, constancia y amistad.
Por último, a través de las cada una de las etapas que componen el UltraMallorcaMan, se conocen paisajes y se disfruta de un clima de ensueño para la práctica del deporte, las costumbres de la peculiar cultura y gastronomía mallorquina, todo ello, en compañía de los tuyos y de los otros miembros y/o familiares de los participantes.
Sin duda alguna, si eres un amante de las actividades deportivas extremas, el UltraMallorcaMan está hecho a tu medida.
Warning Elitechip Queries!
Elitechip is not constantly checking Facebook conversations. If you have any questions or queries regarding the competition or other issue, please use the
Contact Form
so we can reply you in the shortest possible time.