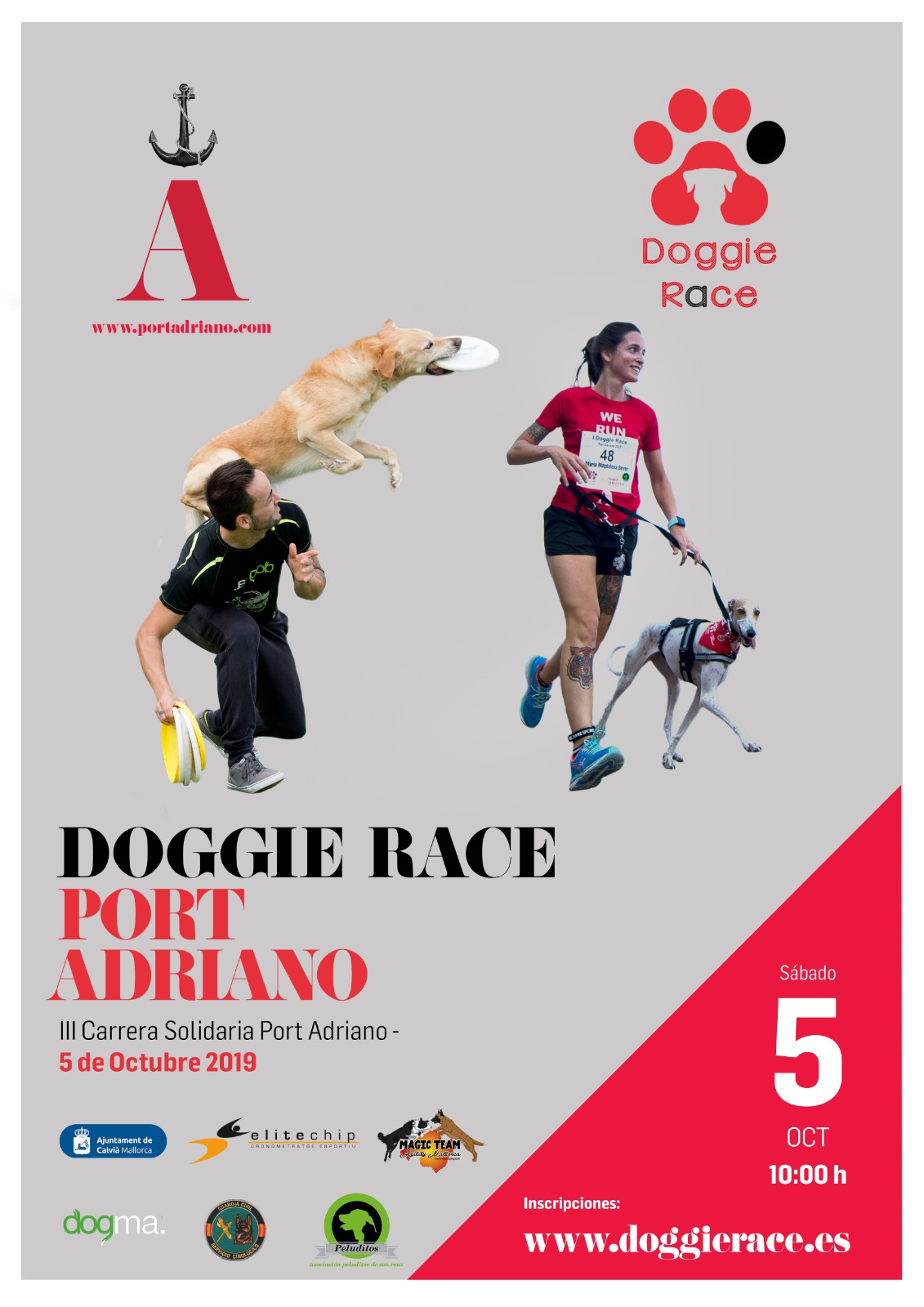 III Doggie Race Port Adriano
Información Evento
¡Bienvenidos a la III Edición de Doggie Race Port Adriano! Un evento diferente y especial orientado a nuestras mascotas perrunas. Un día lleno de actividades y exhibiciones para disfrutar en familia y con amigos, con los objetivos principales de concienciar acerca de la importancia de tener una mascota, potenciar la adopción y conseguir que cada año nuestro entorno sea más PET FRIENDLY, donde nuestras mascotas vayan siendo aceptadas en más lugares públicos y donde se creen espacios verdes destinados a ellos.
Un año más, organizaremos nuestra carrera solidaria de 2 kilómetros que los participantes podrán cubrir corriendo o andando con sus mascotas.
Un evento único, especial, donde grandes y pequeños disfrutarán y donde nuestras mascotas serán los auténticos protagonistas.
Inscríbete en la tercera edición de nuestra divertida carrera solidaria Doggie Race Port Adriano, con tu inscripción ayudas a la Asociación Peluditos de Son Reus a obtener mejores recursos y tratamientos y a encontrar nuevos dueños para sus perros de acogida.
Más información en www.doggierace.es
More information is available at www.doggierace.es
¡Necesitamos tu ayuda! ¿A qué esperas para inscribirte?
Fecha Evento: Sábado 5 de octubre de 2019.
Hora Carrera: 10h.
Distancia: 2.000m.
Lugar: Port Adriano.
Coste Inscripción Individual: 10€.
Coste Inscripción Pareja: 15€.
Coste Alquiler Chip: 2€.
Servicios al Corredor Incluidos
Briefing Técnico Digital.

Bolsa del Corredor (Bolsa, Camiseta Evento y Bandana Mascota).

Cronometraje Electrónico.

Zona de Avituallamiento tras la competición.

Señalización de Circuito.

Servicios Médicos.

Servicios Veterinarios.

Seguro de Responsabilidad Civil.

Seguro de Accidentes.

Regalos de los Sponsors del Evento.
Horario Recogida de Dorsales
El horario de recogida de dorsales será el sábado 5 de octubre de 08:45h a 09:45h en Port Adriano.
The timetable for collecting numbers will take place on Saturday 5th October between 08:45h and 09:45h in Port Adriano.