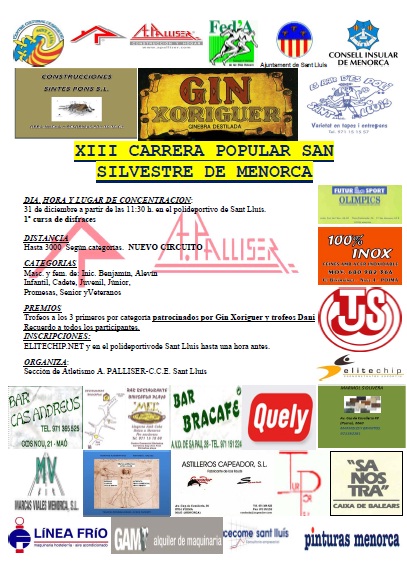 Inscripcions On-line Obertes!!!
DIA, HORA Y LUGAR DE CONCENTRACION:
31 de diciembre a partir de las 11:30 h. en el polideportivo de Sant Lluís.
1º cursa de disfraces
DISTANCIA
Hasta 3000 Según categorías. NUEVO CIRCUITO
CATEGORIAS
Masc. y fem. de: Inic. Benjamín, Alevín
Infantil, Cadete, Juvenil, Júnior,
Promesas, Senior yVeteranos
PREMIOS
Trofeos a los 3 primeros por categoría patrocinados por Gin Xoriguer y trofeos Dani
Recuerdo a todos los participantes.
INSCRIPCIONES:
ELITECHIP.NET y en el polideportivode Sant Lluis hasta una hora antes.
ORGANIZA:
Sección de Atletismo A. PALLISER-C.C.E. Sant Lluís
Warning Elitechip Queries!
Elitechip is not constantly checking Facebook conversations. If you have any questions or queries regarding the competition or other issue, please use the
Contact Form
so we can reply you in the shortest possible time.