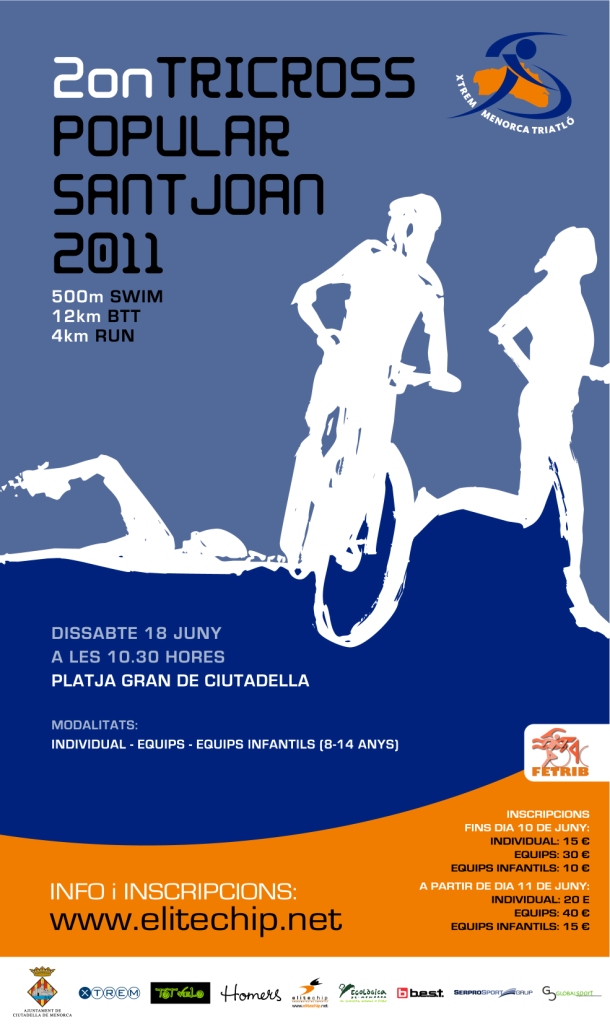 Tornar a la pàgina Principal del TriCross de Sant Joan
DISTÀNCIES: (Aproximades)
250m. de natació (Platja Gran)- 5 km. de ciclisme. (Zona Verda Canal Salat) - 1.5 km. de cursa a peu (Passeig marítim.
Equips relleus femení - Equips relleus masculí - Equips relleus mixtes
PREUS DE L'INSCRIPCIÓ:
Equips Infantil (8-14 Anys) 10 € per Equip + 3 € lloguer de xip.
TROFEUS:
INDIVIDUAL ABSOLUT: Als tres primers de la general
Individual Categories: Al primer de cada Categoria
EQUIPS: Als tres primers equips (puntuen els tres primers temps)
EQUIPS RELLEUS: (poden estar formats per 2 o 3 persones, homes o dones indistintament, que no estiguin inscrits a individual) Als tres primers masculins, femenins i mixtes.
EQUIPS RELLEUS INFANTIL: Als 3 primers classificats
Mes Informació: menorcatriatlo@hotmail.com
Warning Elitechip Queries!
Elitechip is not constantly checking Facebook conversations. If you have any questions or queries regarding the competition or other issue, please use the
Contact Form
so we can reply you in the shortest possible time.