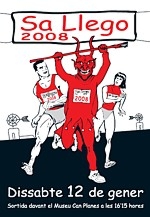 Distancia a recorrer: 7.870m
Premios y obsequios para todos los participantes.
Edad mínima: hombres y mujeres mayores de 16 años. Inscripciones hasta una hora antes de la carrera.
Tiene un coste de 3 euros por derechos de inscripción que incluye el alquiler del chip.
Para más información, consultar el reglamento y/o la página web.
Warning Elitechip Queries!
Elitechip is not constantly checking Facebook conversations. If you have any questions or queries regarding the competition or other issue, please use the
Contact Form
so we can reply you in the shortest possible time.