II Duatlo Lloret de Vistalegre 2012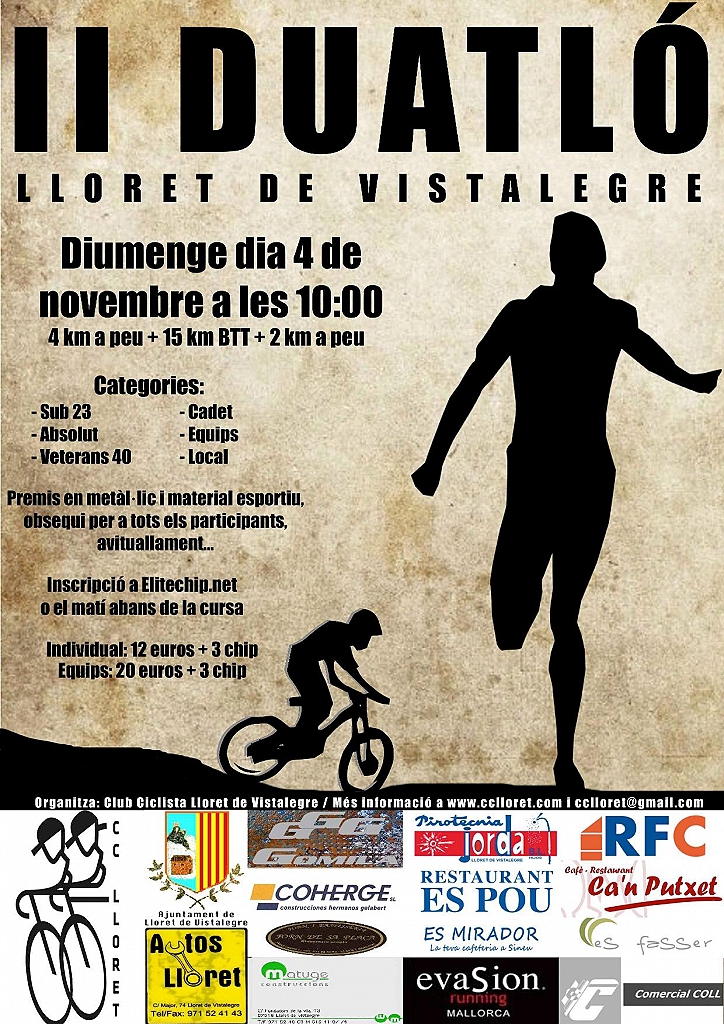 1. Horari i lloc celebració
L'esdeveniment tindrà lloc en la localitat de Lloret de Vistalegre – Mallorca, el diumenge 4 de novembre del 2.012.
La sortida es donarà a les 10.00 hores per totes les categories.
• Ubicació de Boxes: Plaça Major de Lloret.
• Retirada de dorsals: el mateix dia de la prova entre les 08.30 h i 9.30 h en la a la plaça Jaume I de Lloret
• Obertura boxes: 08.30 h - Tancament boxes: 09.30 h
• Lliurament de premis, una vegada acabatel duatló. S'estima a les 12.30 hores.
2.Recorregut: 4 Km carrera a peu + 15 Km BTT + 2 Km carrera a peu
3. Contacte
Per qualsevol duote o informació dirigir-se a www.cclloret.com occlloret@gmail.com
4. Inscripció a www.elitechip.net abans de 3 de novembre o el mateix dia fins les 9:00 hores a la plaça Jaume I.
El preu de la inscripció:
Individual:12€ + 3€ alquiler de chip
Equips: 20€ + 3€ alquiler de chip
o El preu d'inscripció incluou:
· Avituallament sòlid i líquid durant i una vegada finalitzada la prova.
· Obsequi per a tots els participants.
· Segur de responsabilitat civil.
· Segur d'accident.
· Jutges de la prova.
· Servei d'Ambulància amb metge
5. Categories i obsequis:
· Cadet: 13 – 15 anys.
· Sub 23: de 16 a 23 anys.
· Absolut: 23 a 39 anys.
· Veterans : més de 40 anys.
Obsequis:
· Premi en metàl·lic per als 3 primers classificats absoluts masculins (100 € - 80 € - 50 €)
· El primer classificat de la resta de categories tindrà una "tarja de material esportiu" per canviar a la tenda EVASION RUNNING.
· Premi local sorpresa.
TOTS ELS PARTICIPANTS TINDRAN UN VAL DE DESCOMPTE DE LA TENDA EVASION RUNNING.
Warning Elitechip Queries!
Elitechip is not constantly checking Facebook conversations. If you have any questions or queries regarding the competition or other issue, please use the
Contact Form
so we can reply you in the shortest possible time.