II 10 km Port de Palma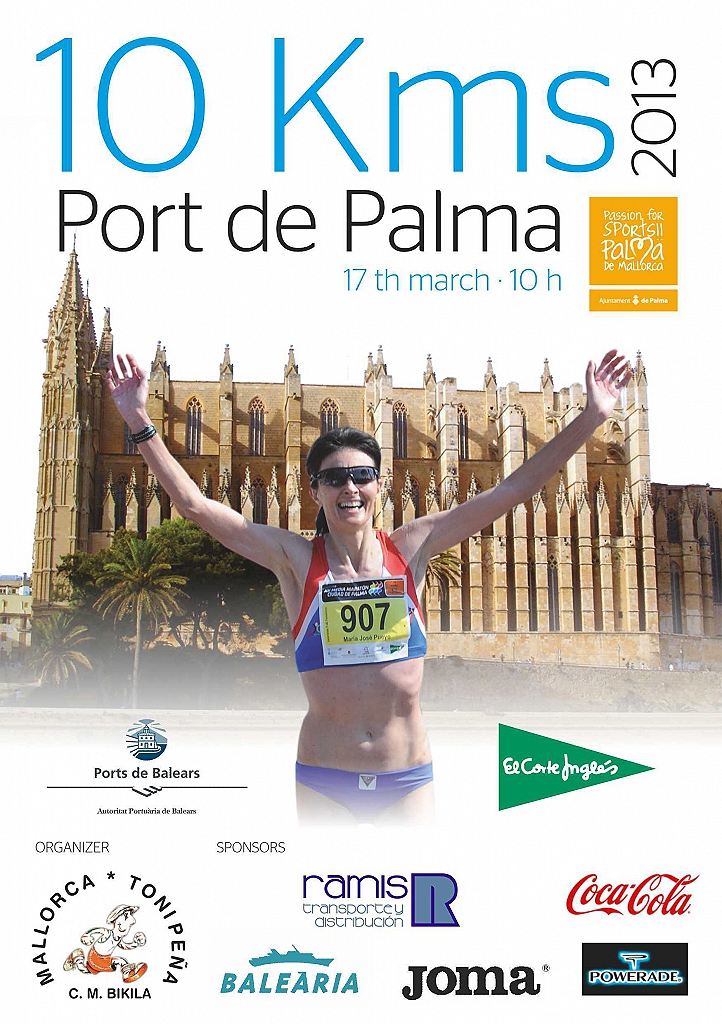 INSCRIPCIONS XXI MEDIO MARATON CIUTAD DE PALMA
SALIDA Y LLEGADA: En Camí de s'Escollera, frente de la catedral de Palma de Mallorca
DISTANCIA: 10.000 mts.
CIRCUITO: Paseo Marítimo, Paseo Sagrera, Autovía de Levante, Centro Palma (totalmente llano por asfalto y cerrado al tráfico rodado)
AVITUALLAMIENTOS: cada 4 kms. aprox. (agua); en meta (agua y refrescos)
OTROS: Bolsa obsequio a todos los inscritos; guardarropía y medalla a todos los atletas finalizados; sorteo de regalos; etc.
INSCRIPCIONES: desde 15/10/2012 hasta 14/03/2013:
· On-line: www.elitechip.net (pago con tarjeta de crédito)
· Por fax: al (0034) 971-46 50 23 mandando formulario inscripción rellenado (pago con tarjeta o transferencia bancaria, adjuntar justificante de pago)
· En centros concertados de inscripción (pago en efectivo)
PRECIO INSCRIPCION:
Desde el 15/10/2012 hasta el 31/10/2012: 10 Euros
Desde el 01/11/2012 hasta el 31/12/2012: 12 Euros
Desde el 01/01/2013 hasta el 15/02/2013: 15 Euros
Desde el 16/02/2013 hasta el 14/03/2013: 18 Euros
FUERA DE PLAZO: 24 Euros
CHIP OBLIGATORIO: "NO CHIP = NO TIME"
· Alquiler = 3 Euros extra
· Compra = 20 Euros extra
· Propio (Elite o Championchip amarillo; anotar claramente número)
INSCRIPCIONES PARA GRUPOS: (= más de 10 corredores).
Se pueden realizar por e-mail a info@marathonmallorca.com solicitando un formulario de grupo
CIERRE DE INSCRIPCIÓN: 14/03/2013
INSCRIPCIONES FUERA PLAZO: SOLO SE ACCEPTARÁN SI LA ORGANIZACIÓN TIENE DISPONIBILIDAD, EN EL DIA Y LUGAR DE LA ENTREGA DE DORSALES
>
Warning Elitechip Queries!
Elitechip is not constantly checking Facebook conversations. If you have any questions or queries regarding the competition or other issue, please use the
Contact Form
so we can reply you in the shortest possible time.