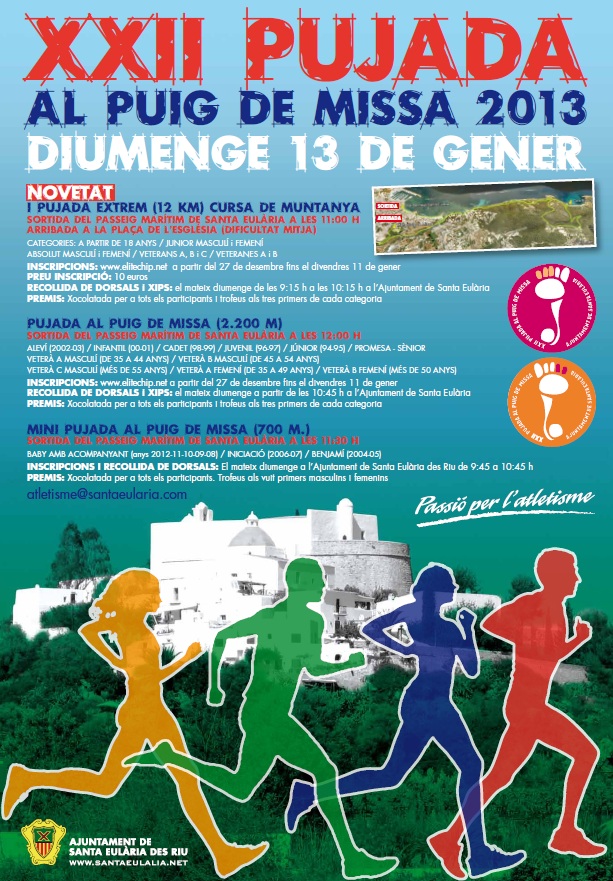 XXII PUJADA PUIG DE MISSA 2012
Diumenge 13 de gener
PUJADA AL PUIG DE MISSA ( 2,200 m.)
SORTIDA DEL PASSEIG MARÍTIM DE SANTA EULÀRIA A LES 12:00 H
ALEVÍ (2002-03)

INFANTIL (2000-2001)

CADET (98-99)

JUVENIL (96-97)

JÚNIOR (94-95)

PROMESA- SÈNIOR

VETERÀ A MASCULÍ ( DE 35 A 44 ANYS)

VETERÀ B MASCULÍ ( DE 45 A 54 ANYS)

VETERÀ C MASCULÍ ( MES DE 55 ANYS)

VETERÀ A FEMENÍ ( DE 35 A 49 ANYS)

VETERÀ B FEMENÍ ( MES DE 50 ANYS)
INSCRIPCIONS: www.elitechip.net fins el divendres 11 de gener
Recollida de dorsals i xips el mateix diumenge a partir de les 10:45 h a l'Ajuntament de Santa Eulària
atletisme@santaeularia.com
MINI PUJADA AL PUIG DE MISSA (700 m . )
SORTIDA DEL PASSEIG MARÍTIM DE SANTA EULÀRIA A LES 11:30 H.
INSCRIPCIONS I RECOLLIDA DE DORSALS :
EL MATEIX DIUMENGE A L'AJUNTAMENT DE SANTA EULÀRIA DES RIU DE 9:45 A 10:45 H.
atletisme@santaeularia.com
Warning Elitechip Queries!
Elitechip is not constantly checking Facebook conversations. If you have any questions or queries regarding the competition or other issue, please use the
Contact Form
so we can reply you in the shortest possible time.