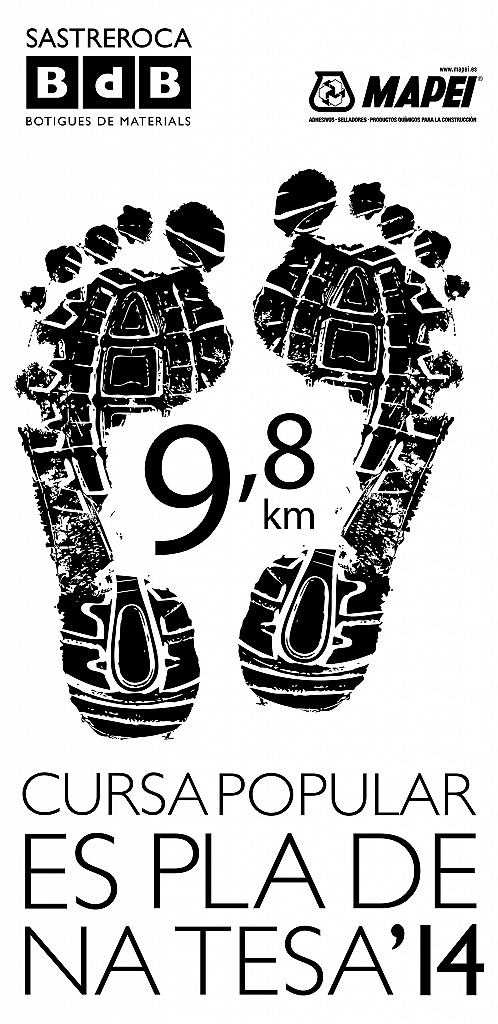 XII CURSA POPULAR PLA DE NA TESA
CATEGORIES
Benjamines Masculinos - De 0 a 9 años cumplidos - 1000 m. (1 vuelta pequeña)
Benjamines Femeninos - De 0 a 9 años cumplidos - 1000 m. (1 vuelta pequeña)
Alevines masculinos - De 10 a 11 años cumplidos - 1000 m. (1 vuelta pequeña)
Alevines femeninos - De 10 a 11 años cumplidos - 1000 m. (1 vuelta pequeña)
Infantiles masculinos - De 12 a 13 años cumplidos - 3200 m. (1 vuelta pequeña + 1 vuelta grande)
Infantiles femeninos - De 12 a 13 años cumplidos - 3200 m. (1 vuelt pequeña + 1 vuelta grande)
Cadetes masculinos - De 14 a 15 años cumplidos - 3200 m. (1 vuelta pequeña + 1 vuelta grande)
Cadetes femeninos - De 14 a 15 años cumplidos - 3200 m. (1 vuelta pequeña + 1 vuelta grande)
Carrera popular masculina - De 16 años cumplidos en adelante - 5400 m. (1 vuelta pequeña + 2 vueltas grandes)
Carrera popular femenina - De 16 años cumplidos en adelante - 5400 m. (1 vuelta pequeña + 2 vueltas grandes)
Carrera veteranos M60 - M65 - M70 - 5400 m. (1 vuelta pequeña + 2 vueltas grandes)
Carrera veteranas F60 - F65 - F70 - 5400 m. (1 vuelta pequeña + 2 vueltas grandes)
Carrera veteranos M35 - M40 - M45 - M50 - M55 - 9800 m. (1 vuelta pequeña + 4 grandes)
Carrera veteranos F35 - F40 - F45 - F50 - F55 - 9800 m. (1 vuelta pequeña + 4 grandes)
Absoluto masculino - Mayores de 18 años - 9800 m. (1 vuelta pequeña + 4 grandes)
Absoluto femenino - Mayores de 18 años - 9800 m. (1 vuelta pequeña + 4 grandes)
PREMIS
3 Trofeos para cada una de las categorías.
5 Trofeos para la categoria masculina y femenina.
NOTES D'INTERÉS:
* Habrá camisetas a los 200 primeros inscritos en la prueba absoluta, popular o veteranos mayores de edad.
* El chip tiene que colocarse amarrado al cordón de una de las zapatillas de los participantes y al finalizar la prueba todos los chips blancos de alquiler se tienen que devolver en la mesa de secretaría en donde han sido recogidos anteriormente.
* Habrá avituallamiento líquido a partir de la 2ª vuelta y al final de carrera.
* Los menores de 10 años tienen que ir acompañados de padres o tutores.
* Todos los participantes menores de 16 años saldrán detrás de los participantes mayores de edad (habrá dos boxes de salida para evitar las caídas de los participantes menores de edad)
* Entrega de premios al finalizar la prueba.
* Los premios no son acumulativos.
Warning Elitechip Queries!
Elitechip is not constantly checking Facebook conversations. If you have any questions or queries regarding the competition or other issue, please use the
Contact Form
so we can reply you in the shortest possible time.