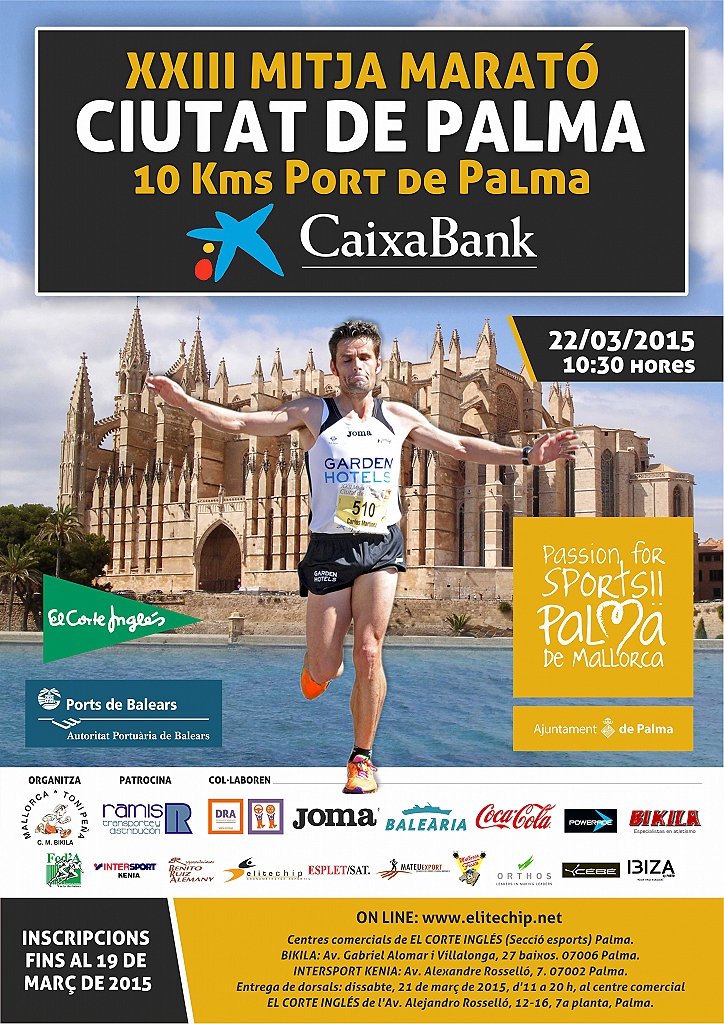 The numbers will be held on March 21, 2015 from 11.00h a 20.00h, at the mall "EL CORTE INGLES" Avda. Alejandro Rosello, 12 at the 7th floor (Palma de Mallorca)
START AND FINISH: At "Camí de s'Escollera", in front of the Cathedral of Palma
DISTANCE: 21.097,50 mts. or 10.000 mts.
CIRCUIT: Paseo Marítimo, Paseo Sagrera, Autovía de Levante, centre of Palma
(Flat, asphalt; closed to traffic)
REFRESHMENT: every 4 kms. aprox (water); in finish area
(fruit, water and refreshment drinks)
OTHERS: Gift bag to all registered athletes; wardrobe and medal to all finishers.
INSCRIPTIONS: until 19/03/2015:
On-line: www.elitechip.net (Payment by credit card)
By fax: filling out and sending inscription form to to (0034) 971-46 50 23
(Payment by credit card or bank transfer; adjoining proof of payment)
In authorized centres (payment in cash)
Inscription fee will not be refunded under any circunstances (see rules competition)
PRICES:
01/09/2014 Until 31/10/2014: 18 Euros
01/11/2014 Until 31/12/2014: 20 Euros
01/01/2015 Until 28/02/2015: 23 Euros
01/03/2015 Until 19/03/2015: 25 Euros
OBLIGATORY CHIP: "NO CHIP = NO TIME"
Rental chip = 3 Euros extra (return after finish competition)
Purchase chip = 20 Euros extra
Own chip (Elite or yellow Champion chip; (clearly stated on inscription form)
GROUP INSCRIPTIONS: (= minimum 10 runners). Can be made by e-mail;
ask for inscription form for groups and return to info@marathonmallorca.com
STARTNUMBER OUTGIVING:
(+ Outgiving rental and purchase chip, as well as control of own chip)
Saturday 21. March 2015 - Opening hours: 11.00 - 20.00
Department store "EL CORTE INGLES" – Avda. Alejandro Rosselló, 12 - 16
(8th. Floor – Cafetería EL CORTE INGLES) – Palma
INSCRIPTION CLOSURE: 19/03/2015
(*) INSCRIPTIONS AFTER THIS DATE WILL ONLY BE POSSIBLE AT THE STARTNUMBER OUTGIVING ON SATURDAY AND IF THE ORGANISATION CONSIDERS IT VAILABLE