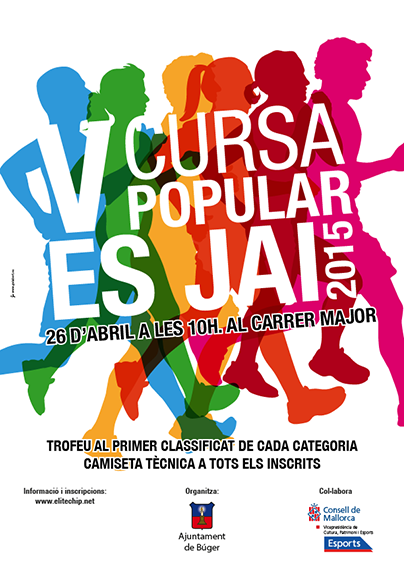 Data, hora i lloc: 26/04/2015
Hora d'inici: 10,00h
Hora d'arribada: 13,00h
Preu de les inscripcions: 4 € més 2€ de lloguer de xip
Inscripcions: Les inscripcions es poden fer de les següents maneres:
A la pàgina www.elitechip.net
Abans de la Cursa Des Jai, el diumenge 26 d'abril de 2015.
Recollida de dorsals: Els dorsals es podran recollir el mateix dia de la cursa a l'estand d'Elitechip.
Obsequis: Al retirar el dorsal cada atleta rebrà una camiseta tècnica màniga curta.
Recorregut: El circuit consta de 11.100 m.
CATEGORIES:
Iniciació: Nascuts en els anys 2008 a 2011
Benjamí: Nascuts en els anys 2006 a 2007
Aleví: Nascuts en els anys 2004 a 2005
Infantil: Nascuts en els anys 2002 a 2003
Cadete: Nascuts en els anys 2000 a 2001
Juvenil: Nascuts en els anys 1998 a 1999
Local: Nascuts a partir de l'any 1997
Veteranes F35: 35 endavant
Veterans M40 40 endavant
Senior (masc. i fem.) 16 a 34 anys (femení) i de 16 a 39 (masculí)
Warning Elitechip Queries!
Elitechip is not constantly checking Facebook conversations. If you have any questions or queries regarding the competition or other issue, please use the
Contact Form
so we can reply you in the shortest possible time.