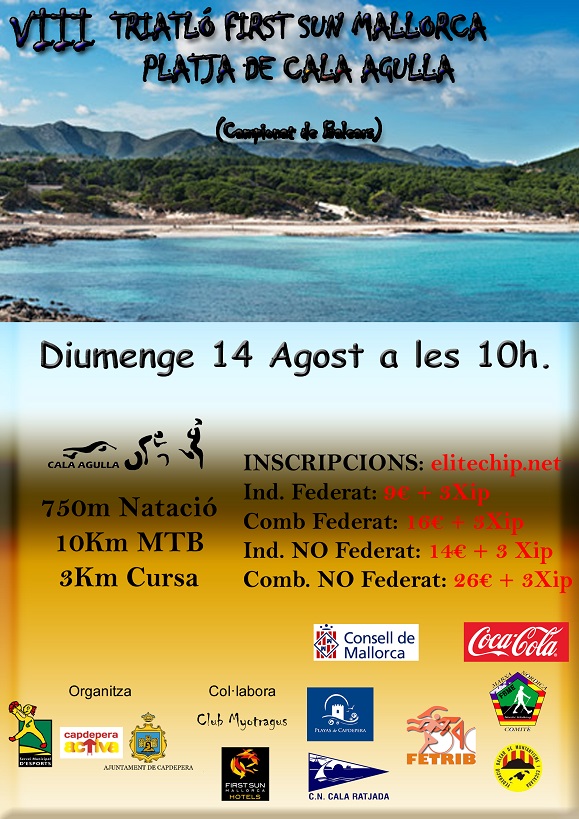 INSCRIPCIONS AL CAMPIONAT BALEAR MARXA NÒRDICA - PITJA AQUÍ
VIII Triatló FIRST SUN MALLORCA, Cala Agulla.
Organitza: El Servei Municipal d'Esports
Col·labora: First Sun Mallorca, Coca- Cola i Platges de Capdepera.
Lloc: Platja de Cala Agulla.
Data i horari: Dia 14 d'agost a les 10h. Concentració i recollida de dorsals a partir de les 8.30h al pàrking de Cala Agulla.
Distàncies aproximades
Natació: 750 m
Bicicleta: 10 Km
Carrera a peu: 3 km
Categories
Absoluta masculina
Absoluta femenina
Absoluta local
Absoluta Equips
Absoluta Equips Locals
Reglament
La prova és guiarà pel reglament de la federació de triatló.
L'organització no es fa responsable dels danys morals, físics i materials que puguin sofrir els participants, abans, durant o després de la prova. En tot cas, però, es prendran les mesures necessàries pel millor desenvolupament de la cursa, posant el servei dels corredors una ambulància i assistència mèdica permanent.
L'organització podrà exigir als corredors algun document acreditatiu de la seva personalitat i edat.
Es cronometratge de la prova ser a càrrec de elitechip
És obligatori l'ús de casc homologat a la prova de ciclisme.
És obligatori l'ús de gorro de natació.
Hi haurà premi pels 3 primers de cada categoria
Per la disputa de l'equip local els tres membres haurien d'estar empadronats a l'Ajuntament de Capdepera
La inscripció suposa l'acceptació d'aquest reglament.
Preu
Federats:
Individual 9 € ( +3€ lloguer de chip )
Equips 16 € ( +3€ lloguer de chips)
No federats
Individual 14€ ( +3 € lloguer de chip)
Equips 26€ ( +3 € lloguer de chips)
*En cas de les condicions de la mar no permetessin la realització del segment de natació, la organització convertiria la prova en un duatló.
Inscripció:
L'organització limita la inscripció a 200 participants. Les inscripcions és realitzen a www.elitechip.net fins dia 13 d'agost a les 23'59 h.
* Totes les inscripcions hauran de ser amb anterioritat i NO es mateix dia de la prova.
Mes informació al Servei Municipal d'Esport 971588197
Warning Elitechip Queries!
Elitechip is not constantly checking Facebook conversations. If you have any questions or queries regarding the competition or other issue, please use the
Contact Form
so we can reply you in the shortest possible time.