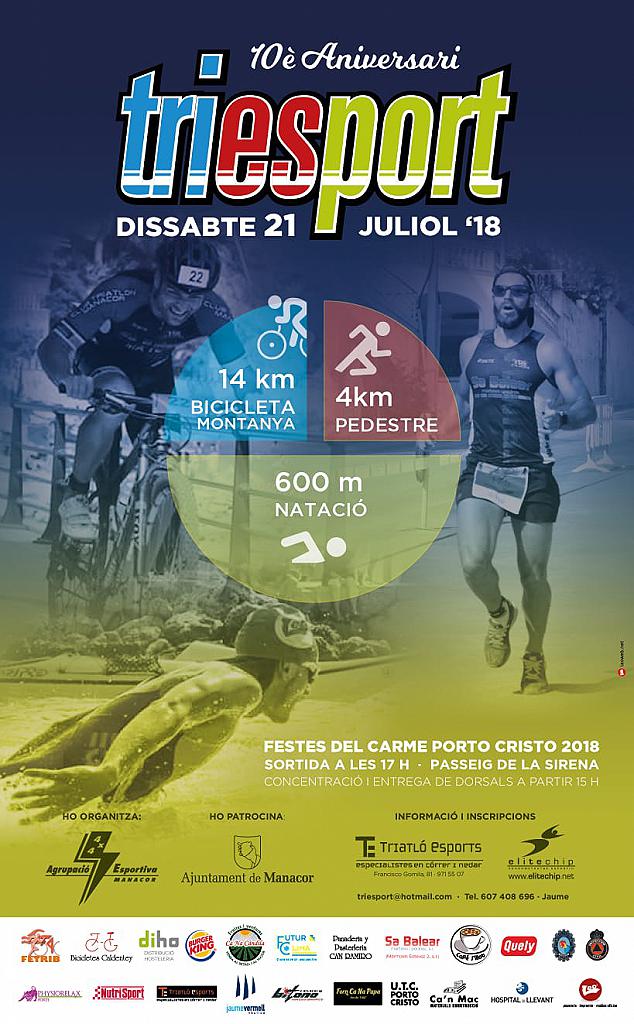 X TRIESPORT PORTO CRISTO 2018

1-La AGRUPACIÓ ESPORTIVA MANACOR tiene previsto organizar el próximo dia 21 de julio 2018,a las 17:00 horas,el "X TRIESPORT PORTO CRISTO 2018", prueba que comprende las siguientes modalidades y distancias:
600 m. de natación.
14 km. de ciclismo MTB.
4 km de carrera pedestre.
2-Se establecen las siguientes categorías:
Absoluta masculina
Junior
Sub-23
Veteranos 40
Veteranos 50
Absoluta femenina
Equipos masculino / femenino
Equipos mixtos
3-Es obligatorio el uso de casco homologado en la prueba de ciclismo y bicicleta de BTT.
4-El cronometraje de la prueba correrá a cargo de "Elitechip.net". El Chip de cronometratge se colocara en el tobillo con un velcro que facilitara la organización, los atletas que realizen la prueba por equipos llevaran un solo chip que deberan entregar a su compañero en cada trancisión.
5-Depende del número de inscritos en la modalidad equipos, se dará una salida solo para estos, que seria a las 17:10 horas.
Inscripciones en WEB www.elitechip.net ELITECHIP cuidará del cronometraje oficial de la prueba
Obsequi para los 200 primeros triatletas Inscritos
Precio inscripción:
Individual, 17 € (+ 5 € Seguro + 3 € alquiler chip amarillo)
Equipos, 27 € (+ 5 € de seguro para cada participante + 3 € alquiler chip amarillo)
Inscripciones Limitadas!!!
Información en triesport@hotmail.com, o al tel.607408696, Jaume Riera.
Warning Elitechip Queries!
Elitechip is not constantly checking Facebook conversations. If you have any questions or queries regarding the competition or other issue, please use the
Contact Form
so we can reply you in the shortest possible time.