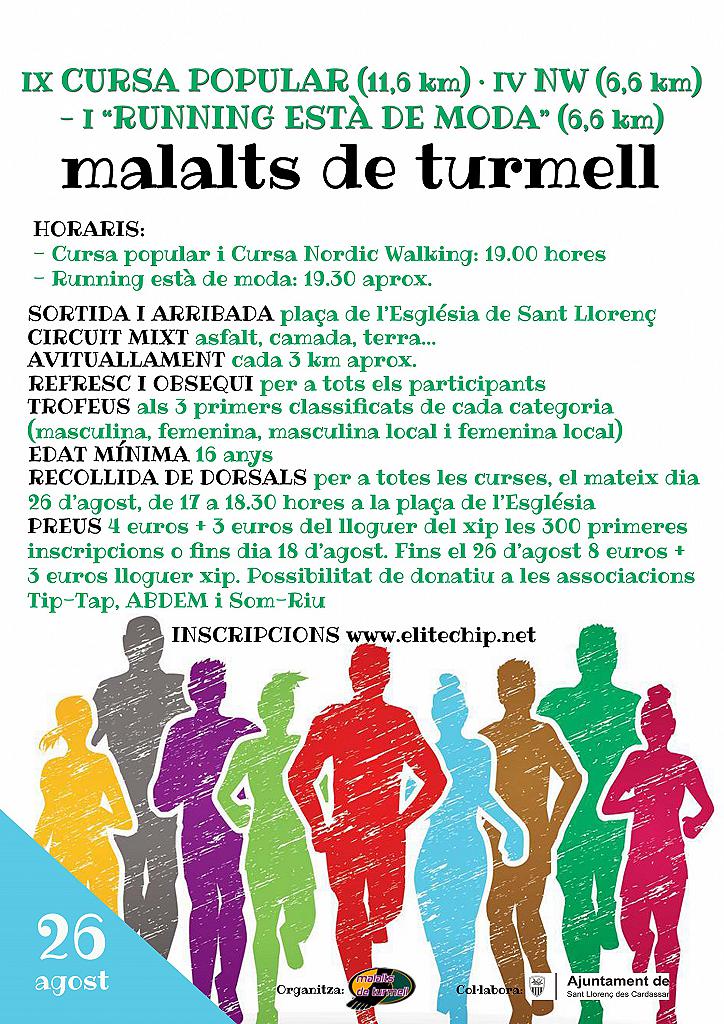 Reglament de la "IX CURSA MALALTS DE TURMELL (11'6 km)"
, de la"IV CURSA NW MALALTS DE TURMELL (6'6 km)"
i de la "I RUNNING ESTA DE MODA 6'6 km)"
La cursa es celebrarà el dia 26 d'Agost de 2017 a les 19:00 hores, amb un circuit aproximat de 11'6 km. per la cursa atlètica llarga i de 6'6 km. per la cursa curta i per la cursa de Nordic Walking, amb sortida i arribada a la plaça de l'Església.
Track de la cursa http://ca.wikiloc.com/wikiloc/view.do?id=19301067
A les 20:30 es procedirà a l'entrega de trofeus.
El tipus de circuit és mixt i hi ha trams d'asfalt, camada, terra...
Hi haurà punts d'avituallament cada 3 km. ,aproximadament, i refresc per a tots els participants en acabar la cursa, així com sorteig de regals.
El cronometratge de la cursa anirà a càrrec de "elitechip".
L'edat mínima per participar és de 16 anys.
Tindran trofeu els tres primers classificats de cada categoria (general masculina i femenina, i locals masculina i femenina) i un obsequi per els participants.
Les inscripcions es poden dur a terme a través de la pàgina "www.elitechip.net".
El preu de la cursa és de 4€ + 3€ (lloguer de xip) per els 300 primers inscrits i fins el 18-08-17, per la resta de participants el preu serà de 8€ + 3€ (lloguer de xip).
Recollida de dorsals per totes les curses: El mateix dia de la cursa, de les 17 hores a les 18:30 hores a la sortida (plaça de l'església).
L'organització no es fa responsable dels danys morals, materials i físics que puguin sofrir els participants abans o després de la cursa. No obstant això, hi haurà un servei d'ambulància durant la prova. I es contarà amb les assegurances obligatòries per aquests tipus d'actes.
La inscripció a la cursa implica l'acceptació d'aquest reglament.
Organitza:
MALALTS DE TURMELL.
Col·labora:
AJUNTAMENT DE SANT LLORENÇ DES CARDASSAR.
Warning Elitechip Queries!
Elitechip is not constantly checking Facebook conversations. If you have any questions or queries regarding the competition or other issue, please use the
Contact Form
so we can reply you in the shortest possible time.