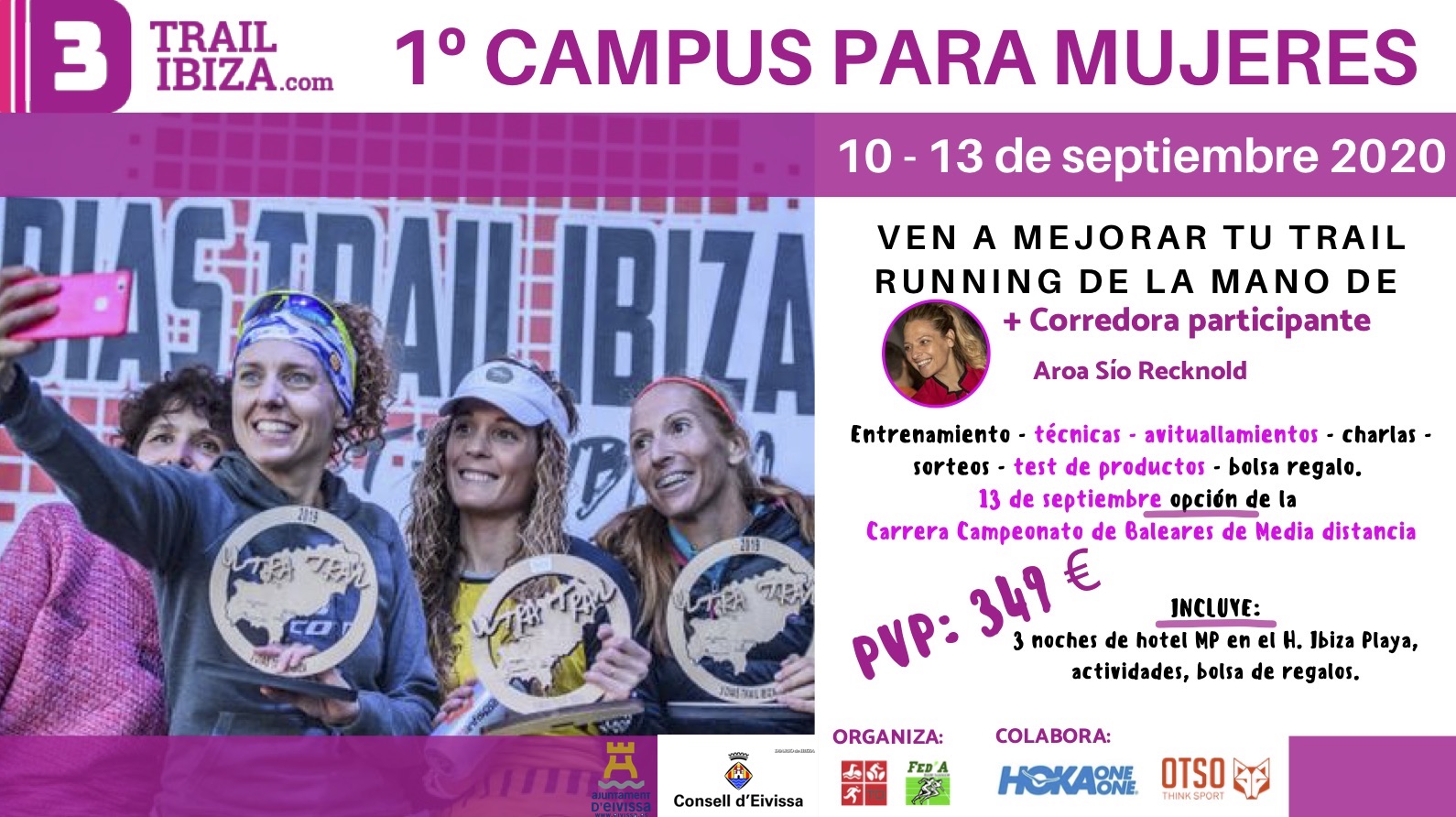 INSCRIPCIONES SOLO DEL CAMPUS, PARA RESERVAS DE HOTEL, ENVIAR UN MAIL A info@trideporte.com
Programa del campus
Miércoles 9
21:30 después de cenar: será la presentación, se hablará sobre el uso de los bastones, la técnica de bajada, de subida...
Jueves 10
8:30 mañana se hará una salida de 15 kms donde se pondrán en práctica las técnicas del día anterior, a la vez que se solventan dudas, se disfruta del entorno y la compañía.
19h charla sobre la importancia de la nutrición en carrera y en días previos, que llevar en la mochila y consejos para hacer las carreras más amenas.
Viernes 11
8:30 mañana se hará otra salida a la montaña para disfrutar del entorno. Técnica de carrera y a la vez seguir hablando de las dudas que nos puedan surgir.
16h excursión Es Vedrá Kayak.
19h charla Mujer y Deporte. Y otras dudas que pueden surgir sobre las carreras y los entrenos.
Sábado 12
por la mañana será tranquila, una visita guiada por Dalt Vila gracias al Ay. de Ibiza.
tarde libre
Domingo 13
Opción carrera III Ruta Norte - Campeonato de Baleares de Media Distancia. Y poner en practica todo lo que hemos aprendido en el Campus.
Warning Elitechip Queries!
Elitechip is not constantly checking Facebook conversations. If you have any questions or queries regarding the competition or other issue, please use the
Contact Form
so we can reply you in the shortest possible time.