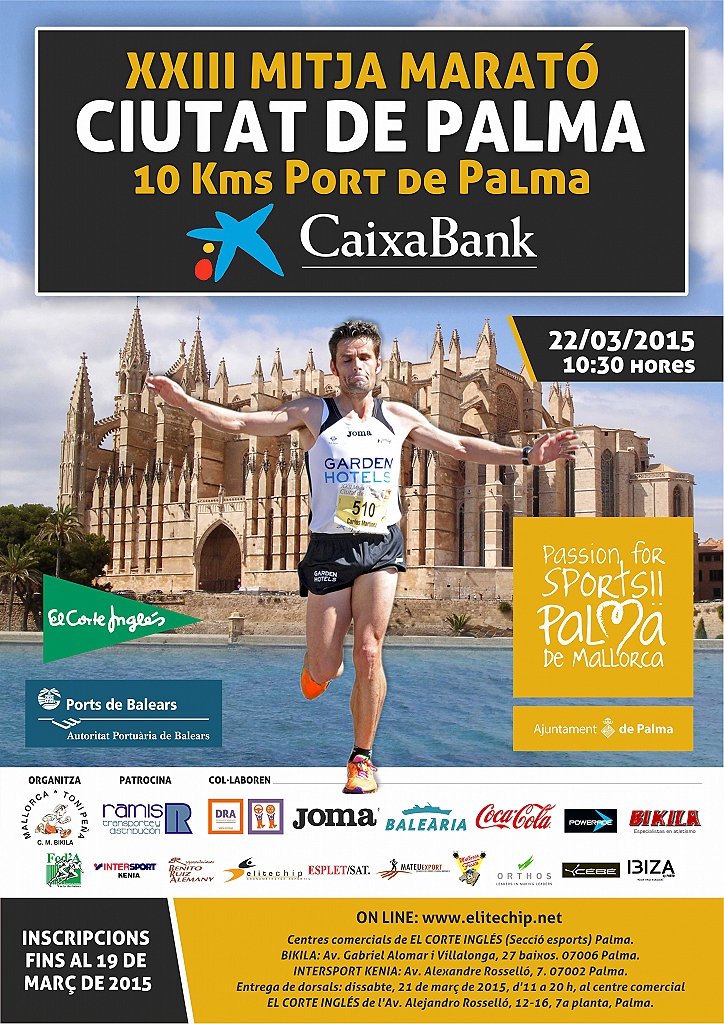 INSCRIPCIONS XXIII MEDIO MARATON CIUTAD DE PALMA
The numbers will be held on March 21, 2015 from 11.00h a 20.00h, at the mall "EL CORTE INGLES" Avda. Alejandro Rosello, 12 at the 7th floor (Palma de Mallorca)
DISTANCE: 10.000 m.
REFRESHMENT: Every 4 kms. aprox (water); in finish area (fruit, water and refreshment drinks)
OTHERS: Gift bag to all registered athletes; wardrobe and medal to all finishers.
INSCRIPTIONS: until 19/03/2015:
On-line: www.elitechip.net (Payment by credit card)
By fax: filling out and sending inscription form to to (0034) 971-46 50 23
(Payment by credit card or bank transfer; adjoining proof of payment)
In authorized centres (payment in cash)
Inscription fee will not be refunded under any circunstances (see rules competition)
PRICES:
01/09/2014 Until 31/10/2014: 10 Euros
01/11/2014 Until 31/12/2014: 12 Euros
01/01/2015 Until 28/02/2015: 15 Euros
01/03/2015 Until 19/03/2015: 18 Euros
OBLIGATORY CHIP: "NO CHIP = NO TIME"
Rental chip = 3 Euros extra (return after finish competition)
Purchase chip = 20 Euros extra
Own chip (Elite or yellow Champion chip; (clearly stated on inscription form)
GROUP INSCRIPTIONS: (= minimum 10 runners). Can be made by e-mail;
ask for inscription form for groups and return to info@marathonmallorca.com
STARTNUMBER OUTGIVING:
(+ Outgiving rental and purchase chip, as well as control of own chip)
Saturday 21. March 2015 - Opening hours: 11.00 - 20.00
Department store "EL CORTE INGLES" – Avda. Alejandro Rosselló, 12 - 16
(8th. Floor – Cafetería EL CORTE INGLES) – Palma
INSCRIPTION CLOSURE: 19/03/2015
(*) INSCRIPTIONS AFTER THIS DATE WILL ONLY BE POSSIBLE AT THE STARTNUMBER OUTGIVING ON SATURDAY AND IF THE ORGANISATION CONSIDERS IT VAILABLE
Warning Elitechip Queries!
Elitechip is not constantly checking Facebook conversations. If you have any questions or queries regarding the competition or other issue, please use the
Contact Form
so we can reply you in the shortest possible time.